Daily Mail columnist Sarah Vine achieved the impossible this week, uniting the general public in cheering on Michael Portillo as he took her to task over the inconsistencies in her article about Ed "two kitchens" Miliband.
Appearing on the BBC's This Week, Vine, who is married to Chief Whip Michael Gove, made a segment on her life as a politician's wife. The feature followed a controversial Daily Mail column in which she mocked Miliband's "forlorn little kitchen".
The room in question was featured in a BBC interview with the Labour leader's wife Justine, whom Vine called in her Daily Mail piece an "alien", compared her to Mr Spock and said she was "totally lacking... [in] humour... warmth, empathy or fallibility."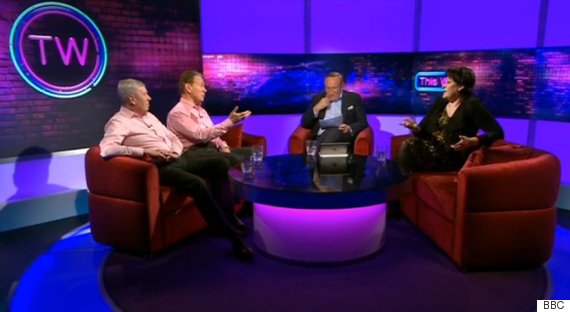 The face-off on the BBC show
It later emerged that the small kitchen shown in the BBC interview was not, in fact, the main hub of the Miliband home.
Ed Miliband's kitchen is lovely. Daily Mail pix: the functional kitchenette by sitting room for tea and quick snacks.

— Jenni Russell (@jennirsl) March 12, 2015
Appearing on the BBC show with Andrew Neil, Vine was rounded on by the show's two regulars.
"Sarah in her article compared Mrs Miliband to an alien, to Mr Spock.. that was pretty tough talk from someone who is in a position to know how vulnerable you are," Portillo said.
Vine admitted she had been more sensitive when her husband first entered politics, and said she had been "probably a much nicer person than I am now, you have to get tough or you can't survive it."
Portillo leapt back in. "Newspapers want you to write that vile stuff. That lady has done nothing wrong in life apart from she happens to be married to the leader of the opposition. To compare her to an alien is in my view not justified. It was pretty bitchy about the kitchen too.'
"I'm a journalist and I've written that stuff for the past 20 years," Vine said defensively.
"Yes but it's not nice," Portillo shot back, and said he was concerned it would put off decent people [going] into politics when they know that not only they are going to be traduced, but their wives... their children."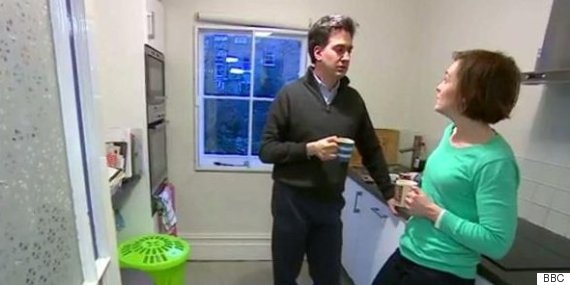 The Milibands' controversial kitchen... or 'kitchenette'
Former Home Secretary Alan Johnson said he was in full agreement. "I'm cheering Michael on here," the Labour MP said. "I was quite frankly amazed, you and Amanda Platell trade on this spiteful nastiness."
"You have to be tough and you have to give as good as you get," Vine replied, pointing to the abuse she receives on Twitter.
"You don't have to," Johnson said. "You don't have to have that level of spite in articles about people's laundry baskets.
Most thoughtful conversation I've heard on the old #leaderswives Q: Portillo, @afneil, @sarahvine & Alan Johnson http://t.co/eodtkk0btO

— Gaby Hinsliff (@gabyhinsliff) March 13, 2015
Portillo and Johnson seem fundamentally decent people. Vine and Gove are cut from cheaper cloth.

— Graham Linehan (@Glinner) March 13, 2015
Michael Portillo and Alan Johnson blow Sarah Vine away. Every monent a joy to watch http://t.co/U5MgUxfLP6 …

— Nick Cohen (@NickCohen4) March 13, 2015
Things I never thought I'd say: bravo, Michael Portillo. Watch from 7mins, including Sarah Vine's bizarre segment http://t.co/g7I1Dp6QNC

— Tom Chivers (@TomChivers) March 13, 2015
Portillo and Johnson took Sarah Vine apart over her "spiteful nastiness" on This Week last night (12 mins in) http://t.co/vD18mrBUmK

— Mark Ferguson (@Markfergusonuk) March 13, 2015
So @SarahVine just achieved remarkable feat: public entirely siding with politicians Portillo & Johnson against hateful journalist #bbctw

— Stefano Hatfield (@stefanohat) March 13, 2015
Michael Portillo absolutely owning Sarah Vine on #thisweek. Wonderful to watch him dissect the huge inconsistencies in her stance.

— Martin Lewis (@MartinSLewis) March 13, 2015
The kitchen's brush with fame has also won it some fans. Writing in the Times today, Liz Hoggard said: "Hurrah for a family too busy to prop the kitchen like a West End play — with the ubiquitous hand-print paintings, faux-comic mugs and Jamie saucepans. It makes the Milibands look open, transparent (they don't even shut their blinds), while the Cameron kitchen is a bit design victim-y (in a Notting Hill, trend-conscious banker sort of way)."
Design writer Dominic Lutyens, told the paper: "His father Ralph, being a Marxist academic, would probably have lived in a pretty utilitarian home that reflected a non-materialistic outlook on life. Ed seems to idolise his father and perhaps he's just inherited his taste?"
"The fact they may not have updated their kitchen for years, suggests they are concerned with higher matters. It's so different from the acquisitive image of the Blairs!"