The BBC lost nearly 4 million viewers on Sunday night after pulling the new series of Top Gear and suspending host Jeremy Clarkson.
Instead of the hugely popular motoring show, BBC2 aired 'Red Arrows: Inside The Bubble'.
Only 1.3 million people tuned in compared to the 5.1 million who watched the last episode of 'Top Gear'.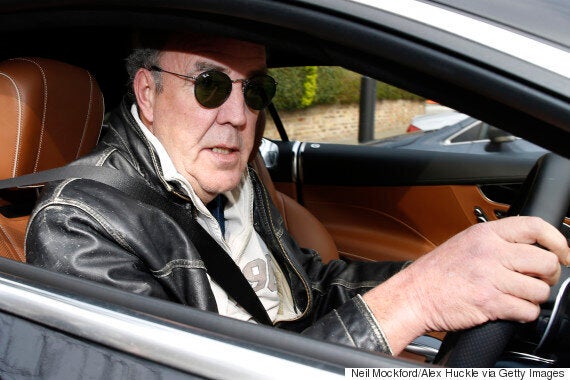 Jeremy Clarkson leaves his West London home on Tuesday
BBC executives are in a bit of a conundrum with a presenter who regularly attracts controversy but is hugely valuable to the corporation.
Clarkson is without doubt one of the main driving forces behind the show which has become a massively successful global franchise.
Clarkson was reported to have earned around £8 million from selling the BBC his 30% share in the programme
In 2013 Top Gear was the third best-selling ready made BBC show around the world, beaten only by nature series Planet Earth
It was first broadcast in its revamped format in 2002
It has run for 22 series
In 2003 presenter Jason Dawe was replaced by long-running co-host James May
The show has three million YouTube subscribers, 15 million Facebook fans, and 1.74 million Twitter followers
The show is the Guinness Book of Records holder for most watched factual programme in the world
Top Gear Magazine - one of the UK's top mens magazines - has a global circulation of 1.67 million, four million people use its website every month
Its live shows have attracted 1.5 million visitors
"As you may have heard, I've been suspended by the BBC following a fracas at a North Yorkshire hotel," he writes. "I don't intend to dwell here on what happened then or what will happen in the future.
"One of the things that has cheered me is how many people have expressed support in the last few days. I'm touched and grateful."