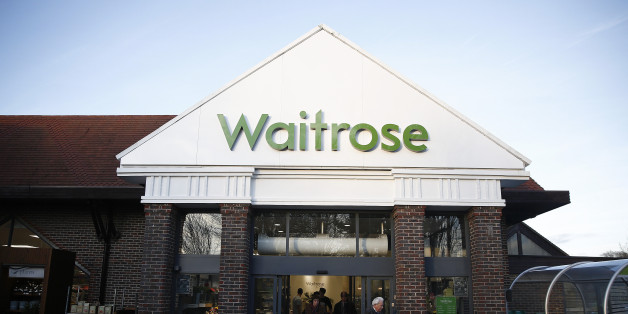 Bloomberg via Getty Images
Waitrose Kitchen Magazine has stirred up controversy by including a 'Taste of Israel' advertising booklet inside its usual publication, containing what are traditionally recognised as Arabic dishes such as hummus and falafel.
Hey @Waitrose . . How about a #TasteofApology for your tasteless #TasteofIsrael magazine? pic.twitter.com/ZaX6N1H42A

— Brighton PSC (@BrightonPSC) March 16, 2015
The pamphlet was created by Israel's state tourism board and was distributed inside Waitrose's February issue of Kitchen Magazine.
But pro-Palestinian groups claimed the booklet was provocative and served a more sinister purpose than just providing meal suggestions.
The Palestinian Solidarity Campaign said: "The booklet is a prime example of Israeli government propaganda, highlighting its efforts to distract the public abroad from its brutal military occupation of Palestinian land by replacing the image of an apartheid regime with that of a tourist-friendly, culture-loving country.
"It is also a shocking example of the Israeli appropriation of Palestinian culture – in this case, food – in an attempt to erase the memory of Palestine from the land and replace it with Israel."
Shoppers and outraged members of the public quickly cottoned on to the magazine's circulation and expressed their outrage on social media, with some announcing they would boycott the high-end supermarket chain altogether:
oh dear #Waitrose, as a long and loyal customer I am now going to boycott you over your pro-Zionist stance. Bye bye. #tasteofIsrael

— Angi Mansi (@WorkPsychol) March 17, 2015
@waitrose Your #TasteofIsrael is a vile promotion of a self proclaimed racist & apartheid regime.No more Waitrose 4Me pic.twitter.com/OLXxRJMK0w

— gail (@lottiemay) March 11, 2015
#TasteofIsrael last time I was in the region,Israelis were really hospitable, they fed me a lot of tear gas garnished with skunk water! Yum

— Sofia Ahmed (@sofiaahmed1) March 17, 2015
Nothing like the taste of falafel with a side-order of apartheid, is there @waitrose #tasteofisrael

— Rory Evans (@RoryEvans_) March 14, 2015
@waitrose you should be ashamed of yourselves for #TasteofIsrael booklet, thought you were a more ethical choice, not apartheid supporters

— Lucy L (@Ms_Melancholy) March 1, 2015
@waitrose Do Waitrose accept money from any other occupying, apartheid regime and allow it to promote itself or just Israel? #TasteofIsrael

— SHIRAZ (@shiraznawaz) March 5, 2015
Utterly disappointed by #Waitrose campaign of showing Palestinian food as #TasteofIsrael. Stop this hypocrisy #peace

— Terry Atif (@Terry_Atif) March 5, 2015
@waitrose What's next? A feature on Soul Food as "Good Southern Confederate Cooking"? #TasteOfIsrael

— Thalwen (@Thalwen) March 11, 2015
The real #tasteofisrael is racism, apartheid, ethnic cleansing & hatred. If you want to promote that @waitrose then shame on you #badtaste

— Zaria Bettles (@zaria_b) February 25, 2015
.@waitrose #TasteOfIsrael promotes destruction of Palestinian olive trees. #TasteApartheid

http://t.co/3ADKKCjLBM pic.twitter.com/EhzWWvp8kl

— BDS_Queen (@BDS_Queen) March 11, 2015
#tasteofpalestine not #tasteofisrael @waitrose Since when did Hummous become Israeli? The word in itself is Arabic for chickpeas!!!!

— Anoushay (@ShaySLC) March 16, 2015
Some Israeli Government propaganda fell out of my @waitrose magazine! A #TasteofIsrael brochure full of pictures of Palestinian delicacies!

— Mark Kerrison (@veripix) March 11, 2015
@waitrose #TasteofIsrael Are Israeli beers for warwatchers available in your shop too? pic.twitter.com/5hg7GeibO6

— Philly Seheri (@The_Separatist) March 17, 2015
.@Waitrose this is Palestine after latest Isreali massacre

#TasteofIsrael pic.twitter.com/GbaJFEwciq

— Kieran shanahan (@kieran_shanahan) March 12, 2015
@waitrose dissapointed to hear about #TasteOfIsrael mag which appropriates multiple facets of Palestinian culture and calls them 'Israeli'

— Eloise Oakes (@oakese_) February 25, 2015
Some however appeared to have liked the recipe suggestions.
Thank you #Waitrose loved your #TasteofIsrael - Israeli food is delicious - please don't be intimated by hypocrite BDS scum

— London Lad (@MosskyBoy) March 17, 2015
William Sitwell, editor of Waitrose Kitchen Magazine, said: "Waitrose Kitchen is not political - we take adverts from a wide range of different businesses and organisations."
The booklet has also been criticised for failing to mention or acknowledge the ongoing conflict in the area, even though that's not really what recipe books are for.
SEE ALSO: