A near-total eclipse of the sun is set to thrill or disappoint millions today, depending on luck and the fickle British weather.
Forecasters believe that Lincolnshire and the Midlands through to southern parts of Wales might be treated to the best celestial show as the moon moves in front of the sun at around 9.30am, covering up to 97% of its surface.
While those in the south-east may miss seeing the eclipse due to cloudy conditions, they will be aware it is happening, Met Office forecaster Kate Brown said.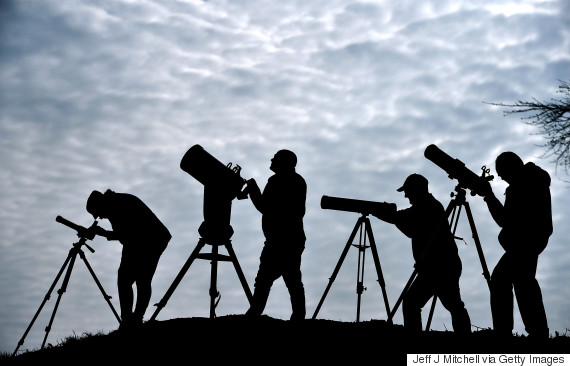 Members of the Galloway Forest Astronomical Society prepare their equipment ahead of solar eclipse
"The south-east corner is currently overcast and is going to stay that way into the time of the eclipse. But even if people don't see it happening they will still be able to sense it getting darker during that time."
Excitement is building on social media - despite glum predictions that cloud will prevent many in Britain from seeing the eclipse.
Eclipses: a once-every-few-years reminder to British people that our weather really is very cloudy.

— James Ball (@jamesrbuk) March 20, 2015
An eclipse at the equinox. I hope the astrologers have got their special tasseled hats on.

— Guy Herbert (@guy_herbert) March 20, 2015
Only an hour until we can start saying "there should be an eclipse happening behind that cloud"

— Matt Gray (@unnamedculprit) March 20, 2015
Cloud is fickle & tricky to forecast. If it's overcast when you wake tomorrow don't give up on the eclipse, the cloud can clear

— Alex Deakin (@alexdeakin) March 19, 2015
I've got my eye protection ready for tomorrow's eclipse all prepared, it's called Dense UK Cloud Cover.

— Jamie (@JamiePaulCullen) March 19, 2015
Lots of cloud for tomorrow's eclipse but you'll still see it getting darker around 9:30am. A few breaks possible. pic.twitter.com/TZQXDKt80r

— Barra Best (@barrabest) March 19, 2015
HOW TO VIEW THE ECLIPSE SAFELY

Taking selfies during the solar eclipse could cause blindness, experts have warned

Experts have warned that looking directly into the sun during Friday's solar eclipse could cause blindness.

Radiation emitted by the sun is so powerful it may cause solar burns of the retina, the College of Optometrists explains. And the risk is just as high for those taking pictures – including selfies - of the eclipse.

Daniel Hardiman-McCartney, a clinical adviser at the College of Optometrists said: "The College advises against taking photos of the eclipse and this includes taking selfies.

"Taking a selfie could potentially put you at risk as you may end up accidentally looking directly at the sun while aligning yourself and your phone. However viewing a video or photo of the eclipse on a phone screen would not be harmful.

"The safest way to view the eclipse is indirectly, for example on TV."

The College also warns against looking at the eclipse even with sunglasses as they are not enough to avoid injury. You are also putting your sight at risk if you view it directly through a telescope, binoculars or camera.

One way of viewing the eclipse is using a pinhole projection method, which involves putting a hole in a piece of cardboard, holding the cardboard up – with your back to the sun – so that an image of the sun is projected onto another piece of paper or card.

Another way of safely viewing the solar eclipse is to buy a pair of Solar Eclipse Glasses. Similar to 3D glasses, eclipse viewers are made from card and inlaid with a special material that cuts the Sun's light down 100,000 times. If using a viewer, check for holes or scratches as it is only safe if undamaged.
Cloud is likely to cover the rest of the country, becoming thicker in the north - but no one can predict when there might be a curtain-raising break in the cloud at any given location in the UK.
A Met Office spokeswoman said: "Forecasting exactly where cloud will break and re-form is really not scientifically possible. But it's not as thick in the south as further north, so you're more likely to see breaks in the cloud the further south you are."
It is not unknown for a fleeting break in cloud to occur during an eclipse as the atmosphere cools. This is one effect scientists at the University of Reading hope to capture as they conduct the largest eclipse weather experiment with the help of sky-watchers throughout the country.
Despite the cloud, the event is expected to have a significant impact on the National Grid with a predicted loss of 850 megawatts of solar power from the electricity supply network.
Around the UK the proportion of the sun covered by the moon will increase towards the north, ranging from 84% in London to 89% in Manchester, 93% in Edinburgh, and 97% in Lerwick in the Shetland Isles.
Times will also vary. In London, the eclipse begins at 8.24am, reaches its maximum extent at 9.31am, and ends at 10.41am. For observers in Edinburgh, the eclipse starts at 8.30am and peaks at 9.35 am.
Another "deep" partial eclipse visible in the UK will not occur until August 12 2026, and the next total eclipse not until September 2090.
Robin Scagell, vice-president of the Society for Popular Astronomy (SPA), who will be travelling on the P&O cruise ship Oriana to witness the total eclipse, said: "We won't experience totality in the UK but it will still be a memorable event."
He added that it may be memorable for the wrong reasons if people fail to heed the numerous warnings from experts not to look directly at the sun.
"Unlike every other eclipse of any size, this one takes place right in the middle of the rush-hour," said Mr Scagell. "It's not the best time from a safety point of view.
"A partial eclipse is more risky by far than a total eclipse because people don't realise that even looking at a thin sliver of sun is dangerous.
"It's absolutely true that there is a serious risk to people's eyesight. If people can't find a way to view the eclipse correctly then they shouldn't look because they're likely to damage their eyes."
READ MORE:
There are anecdotal reports of an "eclipse wind" - a breeze that appears as a solar eclipse reaches its peak - and breaks in the cloud appearing as the atmosphere cools.
Professor Giles Harrison, head of the Department of Meteorology at the University of Reading, who is leading the experiment, said: "This is the first big partial eclipse to happen in the UK since 1999, and the next one isn't until August 2026, so this is a once-in-a-generation opportunity.
"By observing what happens on Friday we are effectively turning the skies of Britain into a giant weather lab, giving us a rare chance to see what happens when you 'turn down the sun'.
"This will give us a precious insight into how the sun influences the clouds and wind, as well as more obvious effects, such as temperature. By improving our understanding of how the weather works, we're better able to predict it, meaning scientists can further improve weather forecasts."
What is a total solar eclipse?