15th century re-enactors were among those attending Sunday's ceremonies that mark the beginning of a series of events before the reburial of Richard III more than 500 years after his death in battle.
Hundreds of people have lined the way so far to see the remains of the last Plantagenet king transported from Leicester University, whose archaeologists discovered the dead king's body in 2012, to Leicester Cathedral, where he will be buried on Thursday.
Dr Phil Stone, chairman of the Richard III Society, said this week's events, would mark "the beginning of the end of this part".
"Our work will continue, in perhaps convincing the doubters Richard wasn't as black as he was once thought to be," he said.
"His reburial at the end of the week will have all the dignity and solemnity that his original burial never had."
The sentiment isn't universally held, with today's Sunday Express front page referring to the king as 'evil'. He has been accused of murdering his own nephews to secure his ascent to the throne and modern views of him are heavily influenced by the Shakespeare play in which he is depicted as a malevolent schemer.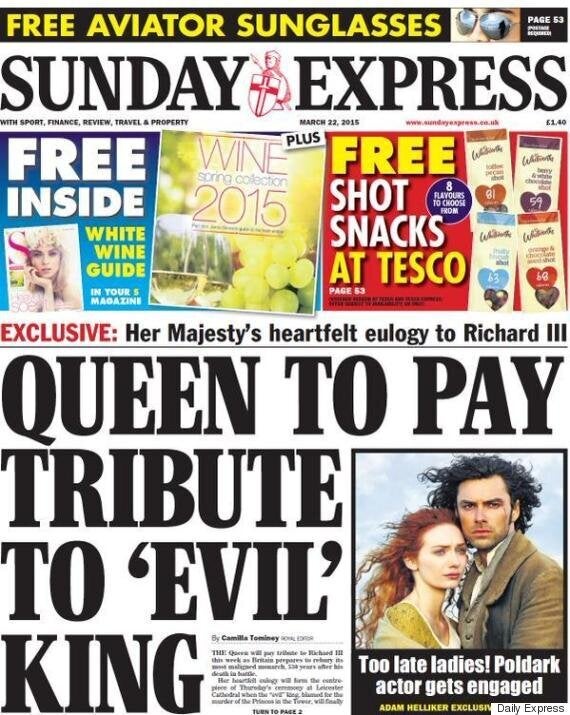 The firmly anti-Plantagenet Daily Express
The paper reported the Queen would have a tribute read out at The Service of Compline at later today - but she has actually written a "greeting" that will appear in the order of service at Thursday's ceremony.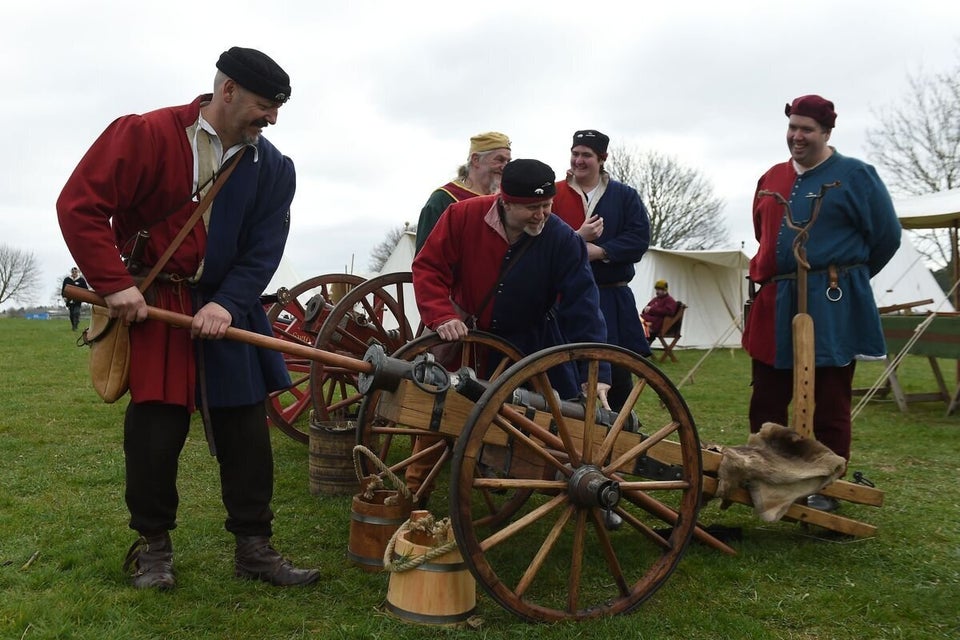 Richard III reburial
More than 600 people gathered along the university exit, some with flags depicting Richard's royal standard.
Further out, as the cortege meandered along country lanes nearing the field of Bosworth, more people stopped by the roadside taking pictures.
The coffin was then taken to farmland near Dadlington where a silver gilt white boar - Richard's sigil - was recently unearthed.
The high status item is thought likely to have belonged to someone close to the king, and may have marked out where the thickest fighting at the Battle of Bosworth Field took place.
Before reaching the cathedral, today's cortege will visit landmarks connected to Richard's fateful final journey to Bosworth battlefield.
It was there, near Market Bosworth, Leicestershire, where in August 1485 he fell while fighting Lancastrian forces under the command of Henry Tudor - later Henry VII, bringing a decisive end to the Wars of the Roses.
Today also marks the moment Richard is formally transferred to the cathedral from the custody of University of Leicester, whose archaeologists and scientists identified the king's remains.
Richard's coffin will lie in repose following today's service, where it can be viewed by the general public from Monday.