The SNP would hold "the power" if a Labour government needed its votes to survive, Alex Salmond has insisted.
The former first minister said the party would demand the scrapping of Trident as the price of entering a "confidence and supply" agreement with Ed Miliband. But he said the "more likely" situation would be Labour and the SNP working together on a vote-by-vote basis - including detailed negotiations about Budget packages.
Salmond, who is standing to re-enter parliament in the Gordon constituency, told the BBC's Andrew Marr Show it would be "very good for Scotland" if there was a decisive number of SNP MPs after May 7. "If you hold the balance, then you hold the power," he said.
A new poll for Monday's Guardian suggested Labour is set to lose control of Scotland. The survey showed the SNP on 43% and Labour on just 27%. On a uniform swing this would see the SNP increase its number of MPs from six to 43 and Labour lose 29 of its 41.
Appearing alongside Salmond on the BBC's Andrew Marr Show on Sunday morning, Conservative defence minister Anna Soubry branded the Salmond's strategy for a hung parliament as "terrifying".
"I have to say, I thought it was one of the scariest interviews I've heard for a very long time," she said. "The thought we are in a position where you could be actually controlling, in the way you have described, this United Kingdom fills me with absolute horror."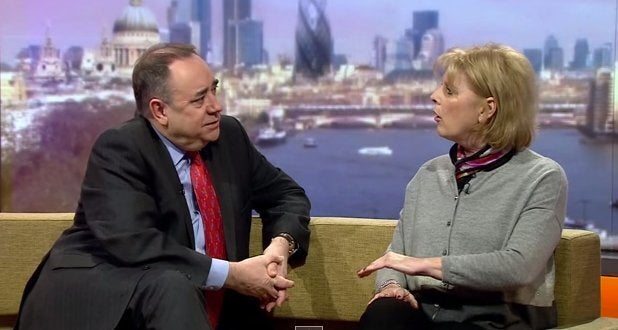 Soubry, sat next to Salmond on the sofa, said the former first minister was a "very charming man" but accused him of trying to break up the UK by the "back door". She told Salmond: "The audacity is astonishing. There was a wonderful debate in Scotland, you lost it."
Salmond said Soubry should accept having Scotland as part of the UK meant there was likely to be a large umber of SNP MPs. "She wanted us in the House of Commons, now she is complaining we are going to have too many seats," he said.
In his earlier interview with Marr, Salmond indicated another Labour chancellor would have to negotiate their Budget with the SNP. "Yes, any minority government has to negotiate in order to win a majority for its proposal. That is patently obvious. To deny that is to deny reality. If the SNP are in these circumstances it will be very good for Scotland, certainly."
Salmond mooted an example where he would propose an amendment to Budget legislation in order to create a high-speed rail line to Edinburgh. "What would Ed Balls do?" he asked.
Pressed on what kind of deal was possible with Labour, Salmond said: "The Labour Party have ruled out a coalition but haven't ruled out a confidence and supply arrangement, where you have a set programme ... I think it is more likely to be a vote by vote arrangement."
Popular in the Community