Three children apparently abandoned at a busy railway station in New Delhi have been reunited with their mother thanks to Twitter.
The bedraggled trio were found huddled together by a man who tweeted their image, asking: "Can someone help these helpless kids at New Delhi railway station near platform 16 entrance".
The heart-wrenching image was retweeted almost 250 times, and led to the police swiftly stepping in.
Rumana, 7, Raja, 5 and Sanya, 4, were "sobbing uncontrollably" and at first were too overwhelmed to explain how they came to be 3km from their home, NDTV writes.
After being soothed and fed, the tearful children revealed their estranged father had suddenly shown up at their home and taken them to the station, where he instructed them: "Stay here til your mother finds you."
Deputy Commissioner of police Sanjay Bhatia said the oldest child was able to show officers where they lived and they were delivered back to their mother. An investigation into how they came to be taken from the home without her knowledge is underway.
DCP Madhur Verma told the Indian Express: "Police began searching for the children. They could not be found on platform 16.
"I then called Abhishek and spoke to him. He had gone to the station to drop off relatives and spotted the children. He said they quietly slipped away from the platform when people started gathering around them. Local police, an hour later, informed me that the children had been found on platform 1. They were hungry, tired and distraught."
It comes in the same month India announced runaway children or those found abandoned or lost in trains and railway premises will now be protected with the Women and Child Development Ministry.
In comments reported by One India, Union Minister Maneka Gandhi said: "They are either trafficked or they leave homes, get lost or are abandoned. We are now in partnership with railways officially to safeguard rights of these children arriving at or living in railway stations until they are reunited with their families or sent to shelter homes."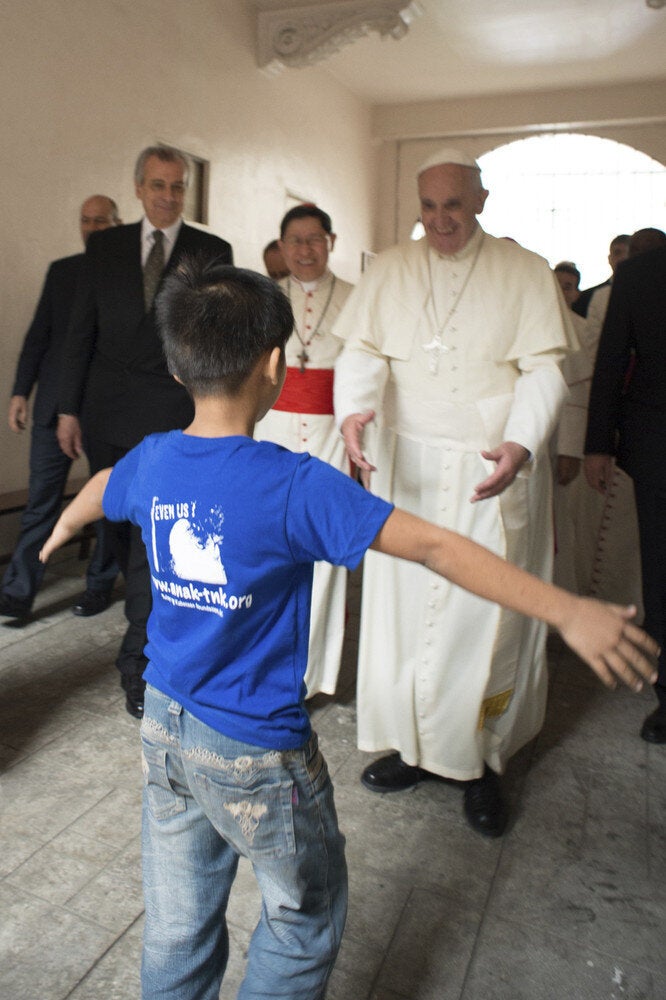 Pope Francis Visits A Center For Street Children In The Philippines