The "totally blurred and chaotic" footage was reportedly captured from the back of the Airbus A320 and features the sound of three metallic bangs - presumed to be the captain trying to break into the locked cockpit, where co-pilot Andreas Lubitz was at the controls, deliberately bringing the plane down.
German paper Bild and French magazine Paris Match claimed to have obtained the footage. Paris Match journalist Frederic Helbert said the screams of those on board "make it perfectly clear that they were aware of what was about to happen to them".
"One can hear cries of 'My God' in several languages. Metallic banging can also be heard more than three times, perhaps of the pilot trying to open the cockpit door with a heavy object," he wrote.
NBC News quoted a "French police official" who said they believed the video was "a fake".
Marseilles prosecutor Brice Robin said he was not aware of the footage but added anyone with any video "must hand it over immediately to investigators," according to the AFP news agency.
The prosecutor told Reuters: "All are for now being kept at Seynes-Les-Alpes. If people at the site have picked up mobile phones, I am not aware of it."
But Regis Le Sommier, Paris Match's deputy editor, told NBC: "I'm convinced it's real. We've checked and investigated, we're pretty positive about our source, which is close to the investigation.
"There's no doubt that what we saw was the final seconds of what happened."
He added: "The footage is very blurry but the sound is, there's no doubt that the passenger actually knew what was going on inside and what was going to happen."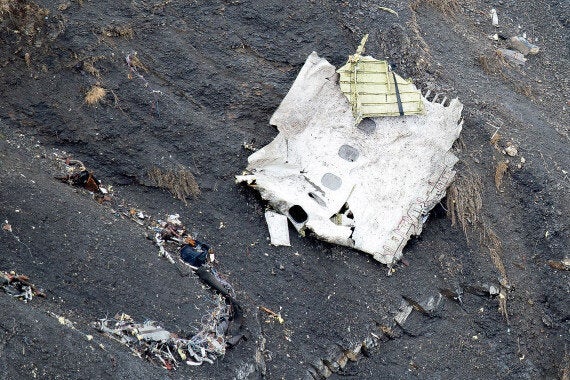 Wreckage at the crash scene
Lufthansa, Germanwings' parent airline, questioned whether a mobile phone could have withstood the impact.
A spokesman said: "We have not seen the video and we do not know if it exists. Therefore we cannot confirm if the video is genuine.
"Considering that everything on the plane was destroyed, it would be unusual for a mobile phone to survive the impact."
Lufthansa chief executive Carsten Spohr said it would take "a long, long time" to understand what led to the crash.
Spohr and the head of its low-cost airline Germanwings, Thomas Winkelmann, visited the crash area on Wednesday amid mounting questions about how much the airlines knew about Lubitz's psychological state and why they have not released more information about it.
The two men laid flowers and then stood silently facing a stone monument to the plane's 150 victims.
The monument looks toward the mountains where the plane crashed and shattered into thousands of pieces. It bears a memorial message in German, Spanish, French and English.
Spohr said the airline is "learning more every day" about what might have led to the crash but "it will take a long, long time to understand how this could happen."