A British man has been arrested in Turkey on suspicion of having "close ties" with a far-left militant group that left a prosecutor dead, reports say.
Stephan Shak Kaczynski, a 52-year-old British national of Polish origin, is accused of having links with the banned leftist group DHKP-C, Turkish newspaper Daily Sabah reported.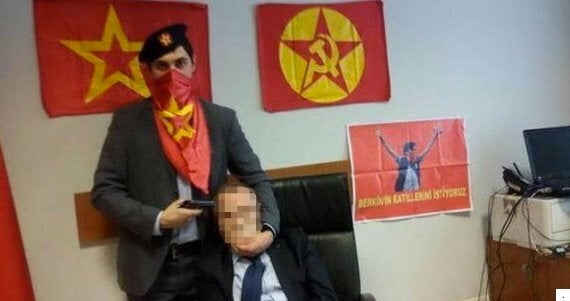 The photo the hostage-takers published
Prosecutor Mehmet Selim Kiraz and the hostage takers were killed after a police shoot-out.
A Foreign Office spokeswoman said: "I can confirm that a British national has been arrested in Turkey and that we are offering consular assistance."
The DHKP-C is listed as a terrorist organisation by the US, EU and Turkey.
Two members of the DHKP-C and the prosecutor they held hostage inside a courthouse in Istanbul died after the shootout.
Police had negotiated with the gunmen for six hours before the violent end to the hostage situation, according to Istanbul police chief Selami Altinok.
Pictures emerged of the hostage takers holding a gun to the head of the prosecutor during the siege.
The prosecutor, identified by state television as Kiraz, was shot in the head during the stand-off and rushed to hospital where doctors tried to save his life.
Turkish prime minister Ahmet Davutoglu and hospital officials later announced he had died.
News agency Dogan reported police special forces had entered the building, which was evacuated.
It was not clear how the assailants managed to get arms into the courthouse.
Kiraz was the prosecutor investigating the death of a teenager who was hit by a police gas canister fired during nationwide anti-government protests in 2013.
The DHKP-C, which seeks a socialist state, has carried out sporadic attacks, including a suicide bombing on the US Embassy in 2013 that killed a security guard. The group was more active in the 1970s.