George Osborne is a "very dangerous man" whose plans are "harder than anything arch-Thatcherites would do," Nick Clegg has said in one of his strongest attacks yet on the Tory strategy.
Stepping up the anti-Tory rhetoric of the election campaign, Clegg vowed he would do "everything in my power" to stop Osborne carrying out his plan.
Clegg said David Cameron was "not too much about grand vision" and acknowledged he could "live with that" but was highly critical of Osborne.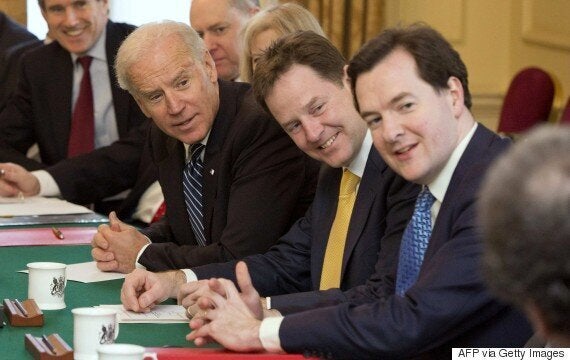 Clegg and Obsorne in happier times, during a visit from US Vice President Joe Biden (3rd from the right)
He said that Osborne's plans, which involve an extra £12bn of welfare cuts and £13bn slashed from Whitehall budgets without any tax rises, were "socially and morally unacceptable".
The strident comments, in an interview with Tony Blair's former spin doctor Alastair Campbell in May's edition of British GQ, are the latest sign of Clegg's attempts to condemn "ideological" cuts planned by the Conservatives.
He said Cameron was "very much a Tory, and in that tradition he is not too much about grand vision".
He added: "Cameron would tell you himself, he is a classic traditional shire Tory, and I can live with that."
He continued: "George Osborne is a very dangerous man with a very dangerous plan, and I will do everything in my power to stop it."
He said the chancellor's plans would do "so much damage" and added: "I don't know of a developed economy that wants to do something as rigidly ideological as he wants to do, to balance the books through public spending reductions alone, not tax, with one section, the working poor, taking the biggest hit.
"I find it socially and morally unacceptable, but also economically a disaster."
The "dramatic lurch to the right" involved a "harder approach than anything the arch-Thatcherites would do", Clegg said.
He added: "He will destroy public services. They will embark on an ideological shrinking of the state."
Clegg said Ed Miliband was a "perfectly nice guy, personable, as is David Cameron" but accused the Labour leader of prioritising short-term party interests.
"I think of a number of crucial occasions where I thought to myself, 'Ed Miliband, you can jump and do something big here and surprise us all, or do the small tactical thing.'
"Every time he has done the latter: House of Lords reform, AV referendum, party funding, he has done the easy thing. Syria – too much ducking and weaving."
Miliband has claimed opposing military action in Syria showed he was tough, but Clegg said the decision also involved "too much political calculation".
The Lib Dem leader said he wanted his party back in government "because Osborne's ideological assault on public services has to be stopped" and "Ed Miliband and Ed Balls' head-in-the-sand approach to public spending has to be challenged, because it would be really bad for the economy".
The Lib Dem leader predicted that forming a government after the election could take "a lot longer" than the five days which led to the formation of the coalition in 2010 and predicted that Whitehall was still ill-equipped for power-sharing administrations.
"Ed Miliband and David Cameron are both saying let's revert to the status quo ante: only a single party can govern this country properly. It is false.
"It is such a danger to them. Also, Westminster is painfully, woefully clapped out; Whitehall is stuck in the past.
"It will take two or three coalitions before it is sorted out. The day when people don't think government is going to come to an end because the governing parties don't agree, we will have moved on."