Anne Hathaway may have got her Oscar for dipping into a well of sadness for her role in 'Les Miserables', but this week she proved her comedic chops are still intact, with a stunning lip sync rendition of Miley Cyrus's 'Wrecking Ball'.
Anne was starring in a trailer for an upcoming episode of 'Lip Sync Battle' in the US when she perched on a huge concrete ball - a la Miley in the original video - and 'belted out' the mournful lyrics to the song, which broke records for video views when it was released in 2013.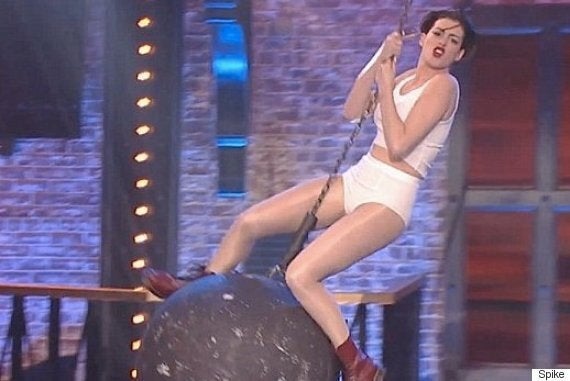 Anne Hathaway followed Miley onto a Wrecking Ball for her Lip Sync Battle with Emily Blunt
Anne opted not to follow Miley all the way to nudity for the sketch, but settled for a similar vest and pants combo for her passionate display. The full episode will be aired later this week, and will pit Anne against her 'Devil Wears Prada' co-star Emily Blunt.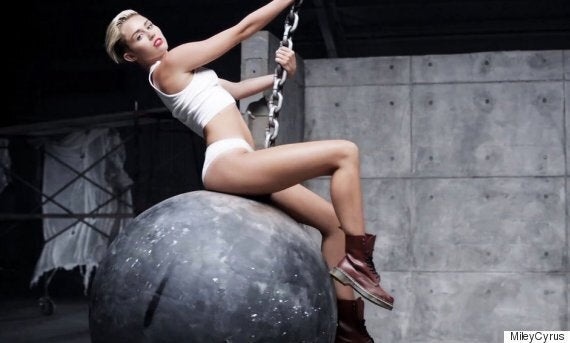 Miley in the original version, which broke records for video views when it was released in 2013
'Lip Sync Battle' is the brainchild of Emily's husband, John Krasinski - an idea which came out of a section on the Jimmy Fallon chat show, testing the talents of his guests.
See Anne's full performance below...
Some of the talents which have been revealed on Jimmy's show so far include the rapping skills of Daniel Radcliffe and the knock-it-out-of-the-park lip sync surprise of Stephen Merchant.