A man has handed himself into police after a video of an Aintree racegoer appearing to deliberately knock an elderly man to the ground went viral.
In the video, filmed by a friend of the man on a mobile phone, onlookers can be heard gasping in shock and seen rushing to the man's aid before calling for an ambulance, just outside the course where the Grand National was held two days later.
But the friend filming continues to laugh throughout the incident. The younger man, apparently drunk, walks up to the other man before barging roughly into him and seems not to notice when the older man falls to the ground and does not move.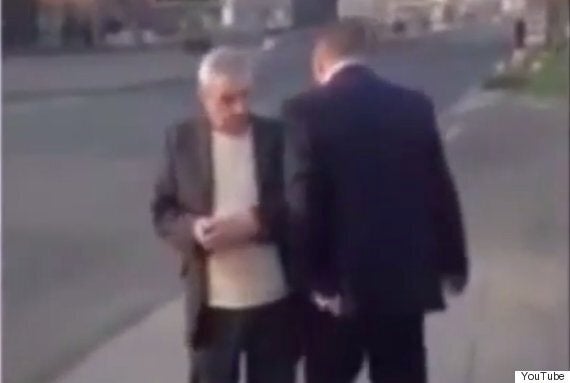 The footage was shared widely online
He posted on Facebook: "I was the lad putting him in the recovery position!! He was bleeding and his teeth where on the floor! Unaware at the time he had pushed him but I could hear the lad filming laughing so I shouted after them and that fat pr**ck tried to land one on me which I seen coming from 6 miles away! That's when I found out he pushed him they told me it was no accident!!!"
Merseyside Police said they were questioning a 34-year-old man from Formby in Sefton who came forward late last night and he was interviewed under caution about the alleged assault.
He was released this morning pending further inquiries.
The footage was brought to the attention of officers by horrified members of the public who had shared it online.
Police established the mobile phone footage, shot by a friend of the 34-year-old, was taken outside the racecourse on Thursday evening.
Officers identified the man who was knocked to the floor as a 63-year-old from Skelmersdale in West Lancashire, who was treated in hospital for bruising to his face.
Merseyside Police earlier thanked visitors for making the annual three-day race event "such a safe and enjoyable occasion" and said no arrests were made inside the ground.