Beyond The Ballot is The Huffington Post UK's alternative take on the General Election, taking on the issues too awkward for Westminster. It focuses on the unanswered questions around internet freedom, mental health and housing. Election news, blogs, polls and predictions are combined with in-depth coverage of our three issues including roundtable debates, MP interviews and analysis

"A right to broadband access would mean a fixed amount of money to invest in stimulating the economy by increasing internet access," he said. "But they will have to spend a disproportionate about of money running fibre optic cables to rural Scotland rather than increasing the internet speeds and online engagement of 90-year-olds in the borough of Lambeth."
Their manifesto, launched an hour before the Tories on Tuesday, promised to oppose the case "secret and unaccountable mass surveillance of the type exposed by Edward Snowden", pledged to support and protect internet freedom and limit the censoring of content or activity to exception circumstances.
It also promised more protection to victims of online trolling as well as to free speech, including a pledge to "introduce a more satisfactory law on so-called malicious comments made on social media than the blanket and crude section 127 of the Communications Act 2003". A shortening of copyright, an end to the privatisation of data and a core principles of open, digital government are also mention.
But with the Greens lucky to win more that a seat on May 7th, this is a look at the key digital pledges from the major parties most likely to form the new government.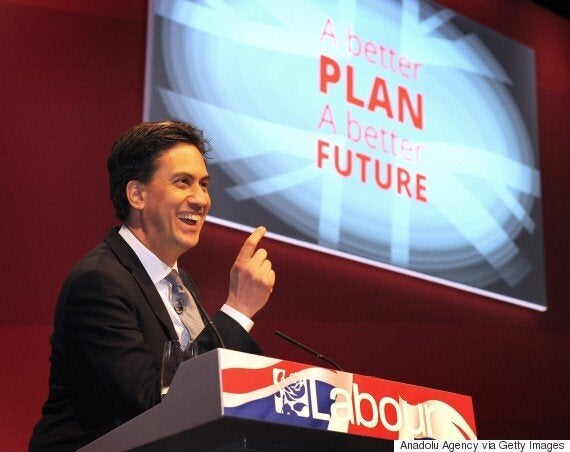 The Labour manifesto launch with leader Ed Miliband in Manchester
We will need to update our investigative laws to keep up with changing technology, strengthening both the powers available, and the safeguards that protect people's privacy.

This is why Labour argued for an independent review, currently being undertaken by David Anderson. We will strengthen the oversight of our intelligence agencies to make sure the public can continue to have confidence in the vital work that they do to keep us safe.
"Labour are being as equivocal on surveillance," Jim Killock from Open Rights Group said. "This is an improvement from the point when they were in government but not sufficient to persuade anyone they can be trusted with our civil liberties.
But Dan Raisbeck, the chief executive of online bullying charity Cybersmile, said there were key omissions here. "Security is mentioned but not so much about digital rights in regards to individual personal safety from abuse, harassment, stalking, identity theft, etc," he said.
Jamie Bartlett, journalist and author of The Dark Net agreed the manifestos was "rather thin" on surveillance and terrorism. "Post Edward Snowden, the issue of internet surveillance has become one of the most pressing subject of the day: both in terms of how important it is for policing and counter-terrorism, but also the public concerns about it.
"It would have been good to see more detail than just 'giving the security services the powers they need' and 'improving oversight'. Everyone is agreed on that; no-one can decide how."
Nicola Brookes, a prominent anti-trolling campaigner who the victim of vicious online harassment, said that the proposals needed to be far more focussed on victims.
"They should recognise and address the increasing issues of everyday peoples needs and fears of online safety and privacy. Starting with the basics - enforcing the existing laws in place to protect individuals online that are widely not being enforced."
Labour's longer-term approach will drive innovation and build on our strengths as a leader in digital technology. We are just at the start of the internet revolution.

Labour will ensure that all parts of the country benefit from affordable, high speed broadband by the end of the Parliament. We will work with the industry and the regulator to maximise private sector investment and deliver the mobile infrastructure needed to extend coverage and reduce 'not spots', including in areas of market failure.

And we will support community-based campaigns to reduce the proportion of citizens unable to use the internet and help those who need it to get the skills to make the most of digital technology.
Cybersmile's Raisbeck called the pledge "positive", saying he was particularly keen on the promise of "provision for more internet access and training for marginalised groups".
But Brookes said she would like to see promotion of responsible internet access, not just access. "There's no point in Labour promising online connection for everyone - if then everyone is going to be hounded off the net, or have their online accounts hacked by criminals with no redress from the law," she said.
We will use digital technology to create a more responsive, devolved, and less costly system of government.

Labour will use digital technology in reforming our public services. People will be able to feed back on services quickly and simply, making sure their voices are heard, stimulating improvement and saving on the costs of service failure.

We will further develop digital government to enable better communication, more collaboration, and sharing of data between services.

It will make services and transactions more efficient and simpler for people to use. To create a more connected society we will support making digital government more inclusive, transparent and accountable. We will continue to back the principle of 'open data by default', releasing public sector performance data wherever possible.
Open Rights' Killock said that it showed a willingness to embrace technology as an opportunity for government rather than a threat.
"Labour are perhaps more keen to see the opportunities for government than the failings, for instance in big IT projects," he added.
Bartlett said the focus was only on the positives of data collection, rather any commitment to protect privacy. "I would say there is very little about individual data privacy more generally," he said.
"How private companies collect and use our data has become a serious consumer rights issue: but the main thrust here seems about the business opportunities that can come from data use.
"That said, I strongly welcome the 'open data by default' promise for public sector data."
We remain strongly committed to the implementation of the recommendations of the Leveson Inquiry. We expect the industry to establish a mechanism for independent self-regulation, which delivers proper redress for individuals, as set out in the Royal Charter, and agreed by all parties in Parliament.

Given all the debates about Charlie Hebdo, online offensiveness and so on - it would have been nice to see something about free expression," Bartlett said. "The phrase 'free speech' was not included anywhere in the manifesto.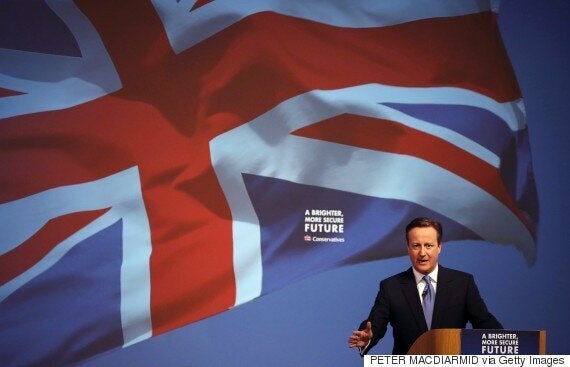 Britain's Prime Minister and leader of the Conservative Party, David Cameron, unveils his party's general election manifesto
"We will keep up to date the ability of the police and security services to access communications data – the 'who, where, when and how' of a communication, but not its content.

"Our new communications data legislation will strengthen our ability to disrupt terrorist plots, criminal networks and organised child grooming gangs, even as technology develops.

"We will maintain the ability of the authorities to intercept the content of suspects' communications, while continuing to strengthen oversight of the use of these powers."
Bartlett called the pledge a "commitment to both strengthening the powers of security services, and strengthening their oversight".
"While I agree this, in principle, is the right approach the devil really is in the detail on this. There are still significant difficulties in working out precisely how this is to be achieved," he said.
Internet access and open government
"We will secure the delivery of superfast broadband in urban and rural areas to provide coverage to 95 per cent of the UK by the end of 2017, and we will ensure no one is left behind by subsidising the cost of installing superfast capable satellite services in the very hardest to reach areas. We will also release more spectrum from public sector use to allow greater private sector access.

"And we have set an ambition that ultrafast broadband should be available to nearly all UK premises as soon as practicable. We will continue to 'topslice' the licence fee for digital infrastructure to support superfast broadband across the country.

"We will save you time, hassle and money by moving more services online, while actively tackling digital exclusion. We will ensure digital assistance is always available for those who are not online, while rolling out cross-government technology platforms to cut costs and improve productivity – such as GOV.UK.

"Over the last five years, we have been open about government spending, provided access to taxpayer-funded research, pursued open data and helped establish the Open Government Partnership. We will continue to be the most transparent government in the world."
"It looks remarkably similar in the general thrust of the Labour Party's approach," Bartlett said. "More commitment - like Labour - to better connectivity for the country; and for more openness in government data, Again, to be welcomed."
"The pledge to provide coverage to 95% of the UK, including hard to reach places is good," Brookes agreed.
"We will protect intellectual property by continuing to require internet service providers to block sites that carry large amounts of illegal content, including their proxies.

"And we will build on progress made under our voluntary anti-piracy projects to warn internet users when they are breaching copyright. We will work to ensure that search engines do not link to the worst-offending sites."
"To restrict the harmful activities of extremist individuals, we will create new Extremism Disruption Orders. These new powers might, for instance, prevent those who are seeking to radicalise young British people online from using the internet or communicating via social media.

We will continue to defend hard-won liberties and the operation of a free press. Because the work of the free press is so important we will offer explicit protection for the role of journalists via the British Bill of Rights and we will ban the police from accessing journalists' phone records to identify whistle-blowers and other sources without prior judicial approval."
"The Extremism Disruption Orders were already promised by Theresa May," Bartlett said. "It's an effort to clamp down on online extremism that falls short of the current law. I'm slightly concerned by the effect this will have on free expression, but we'll have to see how they actually function."
Brookes said she was glad to see "the offer of 'explicit protection' for journalists, the free press doing their job".
"A new data communications legislation combined with their proposed Extremism Disruption Orders is long overdue," she added.
Raisbeck said he was disappointed not to see any mention of digital education. "If we are to talk about "digital rights" then we should be seeing governments develop 'positive digital citizenship' programmes through education, awareness campaigns and schools in PSHE," he said. "Addressing the underlying issues related to cyberbullying and online abuse are key to creating a more responsible user."
"Some issues that are important to citizens, like data protection and net neutrality, seem to be left out", Killock said of the manifestos.
Bartlett said the manifesto showed no attempt to tackle issues of emerging technology. "Wishful thinking I know, but I long for a political party to say something about crypto-currencies, internet governance, and decentralised networks," he said. "This is going to have significant impact on the way the internet works, and much else besides. There are many opportunities and challenges ahead - yet the political parties seem someway behind it."
"I'm disappointed in Labour," Brookes said. "This is not a convincing list of proposed reforms or a positive action plan on anything new or decisive concerning the internet.
She said she had similar feelings of doubt about the Tory manifesto. "Again there is nothing proposed, planned to address the problems of unenforced existing laws and the poor results from authorities in this area of law."
As part of The Huffington Post UK's Beyond The Ballot series we want to know what issues you think aren't getting enough attention in the election campaign. Tweet using the hashtag #BeyondTheBallot to tell us in 140 characters and we'll feature the best contributions