The Valley Parade Stadium fire that killed 56 people - widely believed to have been an accident - was one of nine fires at businesses linked with the club's then-chairman, an extraordinary new book has claimed.
Fire gutted the stadium in May, 1985, spreading quickly through the entire main stand, leaving many dead, despite police evacuating fans to the pitch. It is English football's second deadliest stadium disaster after Hillsborough.
The inquiry into the fire attributed it to a fan discarding a cigarette or a lit match.
But a book by survivor Martin Fletcher, who lost three generations of relatives in the fire, points the finger at Bradford City chairman Stafford Heginbotham, asking how someone could be as "unlucky" as him when there were at least eight other fires at businesses associated with him.
Fletcher told The Guardian he and his family would no longer "live the myth" that the Valley Parade fire was an accident.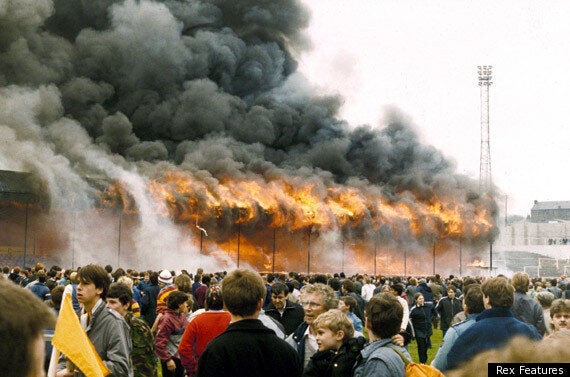 Crowds on the pitch as the fire burns
He says: "In a nutshell, they all spread incredibly quickly, produced an unbelievable amount of toxic smoke and devastation, and they all caught the firefighters unawares. But even more staggering was the sheer number of them.
"I read how on a Sunday afternoon, 21 May 1967, fire engulfed a three-storey factory and its two-storey loading bay as a 200ft pall of toxic smoke temporarily overcame two firemen in Cutler Heights Lane, near Bradford city centre. Fifty firemen in all, deploying 14 jets, eight pumps and a turntable, were needed to bring it under control."
He does not directly accuse Heginbotham of causing the fire but points out he received insurance payouts for the previous fires.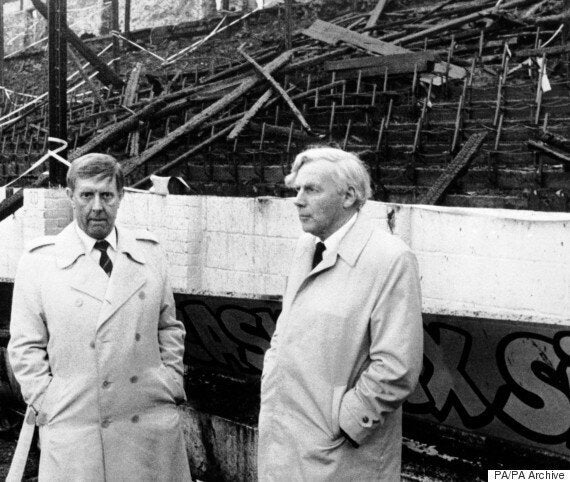 Stafford Heginbotham (left) at the stadium after the fire with Mr Justice Popplewell (right), who led the inquiry
Heginbotham cannot answer the charges. He died in 1995 aged 61.
Fletcher has publicly criticised Popplewell's Inquiry report into the fire, which concluded the fire was likely caused by a cigarette or lit match falling onto rubbish that had been allowed to accumulate beneath the stand. It concluded the fire would not have happened if the club had followed rules on safety at sports grounds.
Fletcher attacked the inquiry in the wake of Popplewell claiming Hillsborough campaigners were "harbouring conspiracy theories" in their campaign for justice over that disaster, in which 96 people died.
Fletcher told The Guardian in 2011: "Popplewell's report was nowhere close to the quality of Lord Justice Taylor's report after Hillsborough, and since reading it as an adult I have always been very disappointed in it and considered it a poor piece of work."