Survivors of a capsized boat off Libya have told Save the Children that 400 people are believed to have drowned in one of the worst tragedies of Europe's continuing migrant crisis.
Even before the survivors were interviewed, Italy's Coast Guard said it assumed that there were many dead given the size of the ship and that nine bodies had been found.
The coast guard had helped rescue some 144 people on Monday and immediately launched an air and sea search operation in hopes of finding others. No other survivors or bodies have been recovered.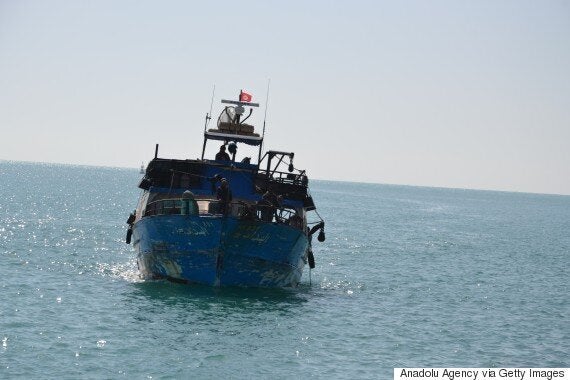 A separate boat, carrying 175 migrants is seen on the shore after the boat caught and rescued by Tunisian coastal guards
On Tuesday, Save the Children said its interviews with survivors who arrived in Reggio Calabria indicated there may have been 400 others who drowned.
The UN refugee agency said the toll was likely given the size of the ship.
The deaths, if confirmed, would add to the skyrocketing numbers of migrants lost at sea: The International Organization of Migration estimates that up to 3,072 migrants are believed to have died in the Mediterranean in 2014, compared to an estimate of 700 in 2013. But the IOM says even those estimates could be low. Overall, since the year 2000, IOM estimates that over 22,000 migrants have lost their lives trying to reach Europe.
"Rescue at sea of migrants must be a priority for Italy and for Europe, and the European Union should strengthen its capacity for search and rescue missions, as more people risk and lose their lives making this perilous journeys," said Save the Children's president and chief executive Carolyn Miles.
"Children arriving have experienced harrowing journeys and are in desperate need of psychological support. Adequate care and protection should be provided to all children, in particular those who have suffered violence."
Earlier on Tuesday, the European Union's top migration official said the EU must quickly adapt to the growing numbers of migrants trying to reach its shores, as new figures showed that more than 7,000 migrants have been plucked from the Mediterranean in the last four days.
"The unprecedented influx of migrants at our borders, and in particular refugees, is unfortunately the new norm and we will need to adjust our responses accordingly," the EU's commissioner for migration, Dimitris Avramopoulos, told lawmakers in Brussels.
More than 280,000 people entered the European Union illegally last year. Many came from Syria, Eritrea and Somalia and made the perilous sea journey from conflict-torn Libya.
European coast guards have been overwhelmed by the numbers. As the weather has begun to warm, even more people have been fleeing conflict and poverty for better lives in Europe.
Of the 7,000 migrants saved in the Mediterranean since Friday, "over 3,500 are still on board rescue vessels and being taken to Italy and so far, 11 bodies were recovered," EU migration spokeswoman Natasha Bertaud said.
Meanwhile the EU's Frontex border agency said that people smugglers trying to recover a wooden boat that had been carrying migrants had fired shots into the air to warn away a coast guard vessel.
The incident on Monday happened some 60 nautical miles off the coast of Libya after an Italian tugboat and the coast guard ship came to the rescue of 250 migrants.
The coast guard vessel was already carrying 342 migrants from a previous rescue.
It's at least the second incident of this kind, raising concern for the safety of rescue workers and migrants alike.
Late next month, Avramopoulos is expected to unveil a new EU strategy aimed at tackling the migrant wave.