A stunning new campaign in which celebrities including Tinie Tempah and Sol Campbell have turned themselves white has been launched to encourage African British and Asian British communities to register to vote.
The rapper and footballer are also joined by actor David Harewood and Paralympic champion Ade Adepitan to urge people of Black, Asian and Minority Ethnicities (BAME) to use their right to vote in next month's general election.
All four stars appear with areas or their skin or faces painted white - representing the colour being lost from Britain.
Harewood, who has starred in television series Homeland and Oscar-nominated film Blood Diamond, appears in a video for the campaign, produced by Operation Black Vote (OBV).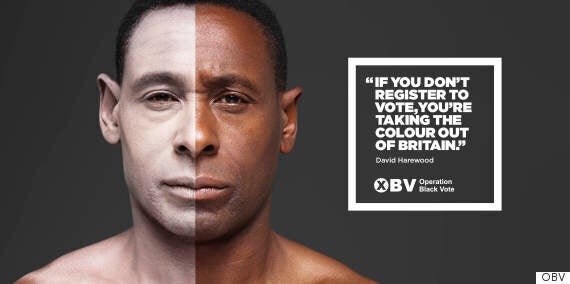 With his face painted white, he appeals to viewers to register to vote so that their voices can be heard – and so he doesn't have to make this kind of gesture again.
He says: "I've done some fantastic things in my career but one of the best things I've ever done is register to vote.
"Because if you're black or Asian and you haven't registered to vote, you're actually taking the colour out of Britain - and quite frankly that looks ridiculous.
"I know you don't feel represented by politicians. But the thing is if you're not registered to vote, they won't ever listen, it's a chicken and egg.
"Because as soon as you register, they listen. You matter.
"The more black and Asian Britons register to vote, the better our voices will be heard.
"The better our voices are heard, the more we'll be represented - and the less I'll have to do things like this."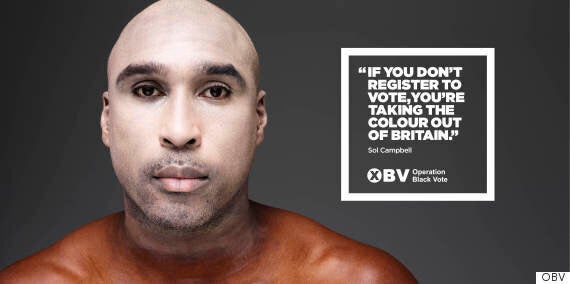 Speaking about the campaign, he said: "If you want change, you have to vote for it. In order to vote, you have to register.
"We can't continue to stand on the sidelines of the British democratic system, we are a part of it and our voices matter."
Ethnic minorities were three times less likely to be registered to vote than white Britons at the last election, according to the Telegraph.
And while just 7% of white British people did not register for a vote, almost a third (28%) of black people weren't registered.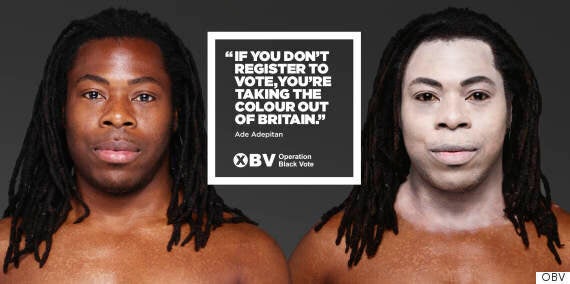 Paralympic champion Ade Adepitan
Simon Woolley, the director of OBV, said: "The goal is clear: to encourage Black and minority ethnic communities to register to vote and vote in the 2015 General Election in the largest numbers ever.
"The broader aim is to use that political leverage to demand from all the political parties that tackling race inequality must be a priority.
"The collaboration between the creative talent of Saatchi and Saatchi, Rankin the photographer, and our international Black stars and Operation Black Vote, is unprecedented.
"Many great Britons demanding that we have an inclusive and representative democracy. Brilliant."