In the latest of our WISE WORDS interview series - where stars share their life lessons - we sat down for a chat with Tinie Tempah.
The British rapper has already managed to squeeze rather a lot into his 26 years on the planet and has learned a lot along the way, which has included taking some sound advice from a certain Jennifer Lopez...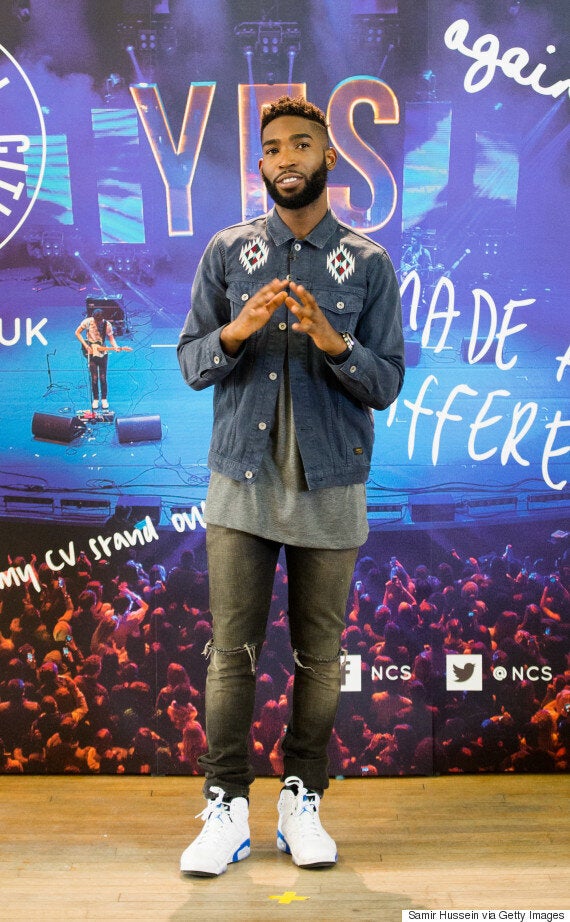 Tinie Tempah is the new ambassador for NCS (National Citizen Service)
What do you do to switch off from the world?
I go to sleep! That's probably the only time I get to switch off unless I'm at home watching TV to take myself off all the stuff I'm doing. Or I'll go to a random city where people don't know who I am.
How do you deal with negativity?
I surround myself with good people and I always think about my end goal. I think a lot of negativity is very much of the here and now, but if you always have in mind what your end goal is I think that helps you brush negativity off.
When and where are you happiest?
With my family and my loved ones at home or at my mum's house.
What's the best piece of advice you've ever been given?
No complaining. J-Lo told me one time in LA that the one thing she's learned in her life is don't complain because someone else could always be in your situation. So just be happy and keep working harder if something doesn't go your way.
What has been the hardest lesson you've learned?
If you have an entrepreneurial spirit or there's something that you're trying to build for yourself - be that a business or a career - no one else ever shares exactly the same passion as you do in what you're trying to achieve.
What would you tell your 13-year-old self?
That's kind of what we're doing at the NCS at the moment. I've been talking to youngsters about everything I've been through. I'd also say make sure you learn French and Spanish. When I was at school I didn't really see the benefit of learning those languages but I've travelled so much and you don't realise how many other countries speak those languages.
What three things are at the top of your bucket list?
Oh wow, a Grammy would be pretty special. My very own world tour on every continent, and performing at Wembley Stadium on my own.
What do you think happens when we die?
In my mind I think if you've been a good person by putting other people first, been humble, given back in any way you can and been a truthful, honest person then I believe in a heaven. But I believe that your energy and soul go into something else. I do believe in a heaven and a hell. I also believe that life is about getting to a higher consciousness. So your mind, spirit and soul travel until you get to the most enlightened place possible.
When do you feel a sense that we live in the presence of something bigger than ourselves?
Oh wow! Well I went skiing for the first time this year and when I got to the top of the mountain I felt so minuscule and insignificant. I feel like that any time I see great nature.
What do you try to bring to your relationships?
Respect is the most important thing. Truthfulness, honesty and communication. I think every good relationship is made better when you feel someone is adding something to your life. Any bit of life experience or wisdom I've picked up along the way I think is going to benefit someone so I try and share that knowledge. Sometimes that isn't easy as people don't always want to hear it.
Regardless of what's going on in my life I'm just a small, insignificant thing. Also, just the fact that I've come from very humble beginnings. It's fascinating what a little bit of hard work has done, which has not only impacted my life but also changed the lives of the people around me for the better too.
What was your last good deed?
I've got loads of trainers and I'm only a size 8 so every now and then I give away loads of them to cousins, extended family and to my mum's church.
Tinie Tempah is the new ambassador for NCS (National Citizen Service). NCS is the fastest growing youth programme for 16-17 year olds across England and Northern Ireland. NCS summer programme places are going fast. Sign up today to make a difference. www.ncsyes.co.uk ​