So far 61% of the 60,000 square kilometer (23,000-square-mile) search area has been scoured off Australia's west coast.
The remaining 39% will have been searched by the end of May, said Malaysian Transport Minister Liow Tiong Lai, who vowed that Malaysia, Australia and China remain committed to the search.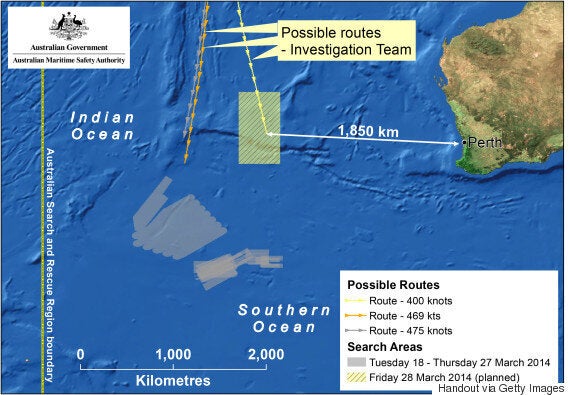 The current MH370 search area
Liow said the two areas together would cover 95 percent of the Indian Ocean flight path of the plane, which went missing while flying from Kuala Lumpur to Beijing with 239 people on board.
Following a six-month examination of flight data and using a unique mathematical technique, the Boeing 777 captain pinpoints the location of the aircraft to 100 nautical miles away from where the search is currently being carried out.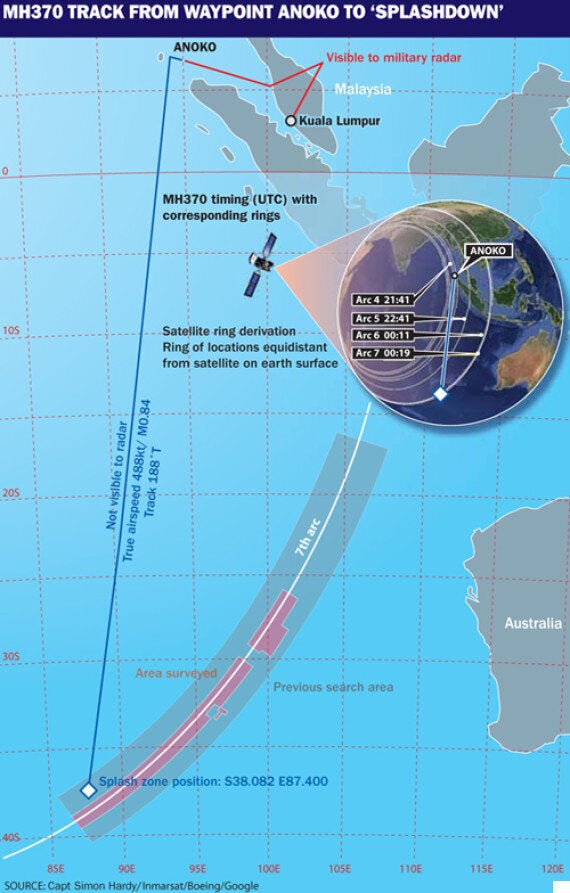 Captain Simon Hardy's calculations put the plane 100 nautical miles away from the current search area
While the extended search area will see Captain Hardy's suggested spot fall just short of the new boundaries, it will no doubt offer new hope to the friends and loved ones of those whom were on board that we are moving closer to understanding what occurred.
Captain Hardy told The Sunday Times he believes pilot Zaharie Ahmad Shah performed a final "emotional" fly-past of Penang island, before landing the plane on water, where it sank intact.
Hardy points out it was unusual for Shah to have made the last radio call from the plane before it disappeared, particularly when all previous communications had been made by first officer Fariq Abdul Hamid.
After losing contact with air traffic control over the China Sea, Hardy says the transponder was turned off and then the aircraft did something "quite remarkable." A photo of Zaharie Shah (top right) and co-pilot Fariq Abdul Hamid (top left) atop a poster appealing for the missing plane to 'please come back'
"It did a U-turn and reached landfall exactly at the border between Malaysia and Thailand. Then it flew along the border. It went in and out of those two countries' airspace eight times. I've never seen anything like that, but it is a good way to cause confusion between controllers." [Hardy's in-depth mathematical analyses can be read here.]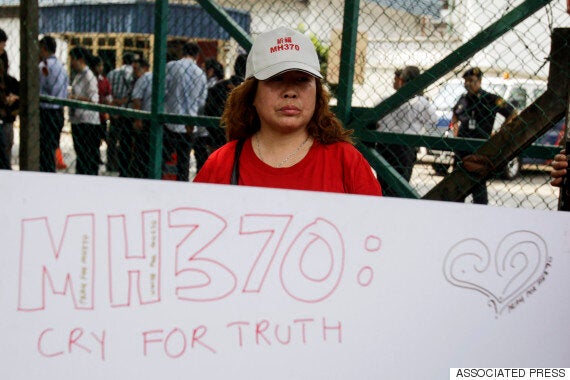 A family member of a passenger on board flight MH370 outside the Malaysia Airlines office in Kuala Lumpur, Malaysia, in February
And he highlights an unusual series of turns above the island of Penang, which he claims is evidence that: "Somebody was taking a last emotional look", a manoeuvre similar to one he himself had carried out to get a better view of Ayers Rock in Australia.
Based on signals from an Inmarsat satellite which periodically sent out a "log-on" request known in the aviation as a "handshake", the last position on the plane was over the Andaman Sea, two nautical miles from navigation waypoint Anoko, not far from the Andaman Islands.
Aviation expert David Learmount of Flightglobal told the newspaper: "Hardy has come up with something which is thoroughly plausible, and I think [MH370] may be pretty close to where he says it is."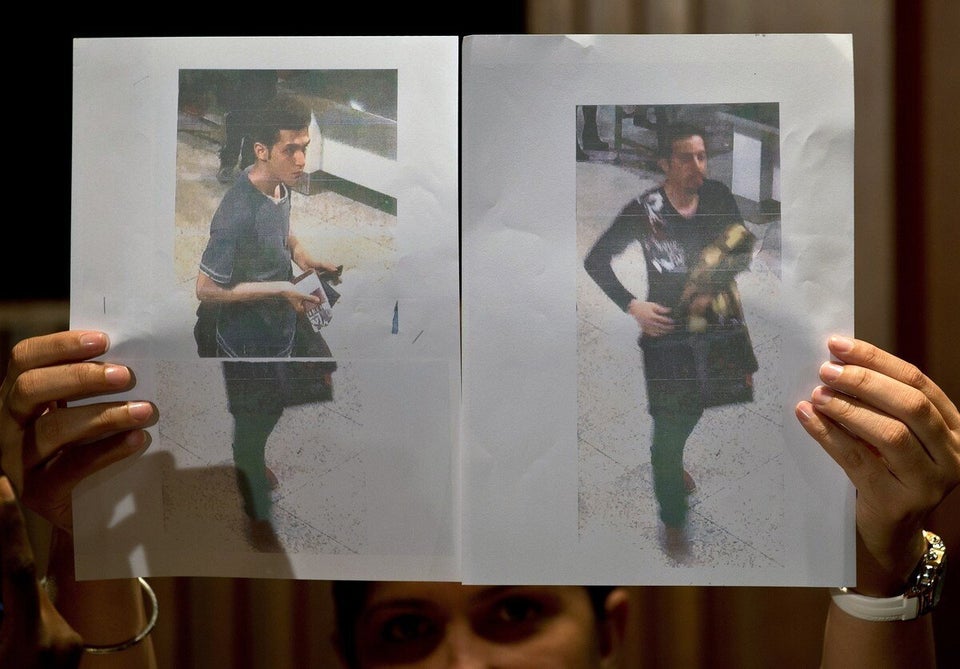 Malaysian Airlines Conspiracy Theories
Writing on Flightglobal, Learmount added: "…No floating wreckage from the aircraft has been found, and one way of ensuring nothing floated to provide clues to its resting place would be to ditch the 777 carefully, resulting in the minimum possible structural damage so it would sink to the bottom of the ocean without scattering floating wreckage."
Another theory also has the plane flying west to Maldives.
Australian Deputy Prime Minister and transport minister Warren Truss has said the plane may have had enough fuel to reach Maldives but it would have been impossible for it to be in the reported area in daylight and not be seen by anyone.
Also, the flight path to Maldives would be inconsistent with satellite and radar data. "It is not considered a likely possibility," Truss said.
Several people have made police statements about what they saw on the morning of 8 March 2014, with several commenting on the aircraft's distinctive red and blue livery – the colours of Malaysia Airlines.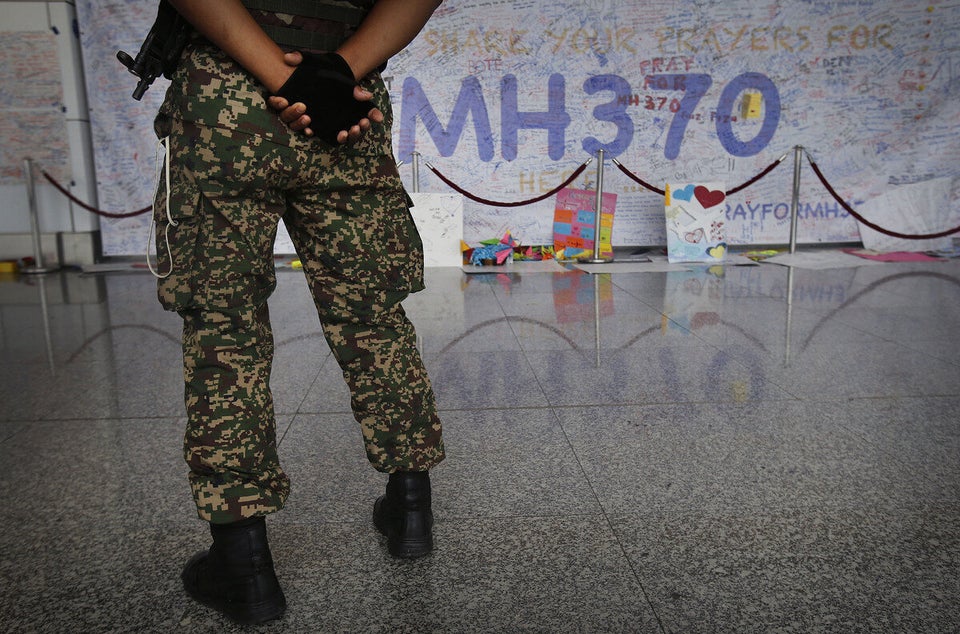 MH370: What we know for sure
Related