Boris Johnson has not ruled out becoming a minister in the first year of a Tory government but said David Cameron would not be in favour of such a move.
Mr Johnson also dismissed a potential scenario that could see him installed as prime minister by November, after a snap election - if the Tories lose the election, Mr Cameron is ousted as leader, and Labour cannot form a viable government.
Asked by LBC what odds a bookmaker would offer on that happening, the mayor said: "I wouldn't want you to lose any of your money.
"The best outcome, the most likely outcome, is that David Cameron is returned and people realise it is a stark choice in this country."
Mr Johnson added: "You're going to be completely wasting your money.
"That is a false alternative - the choice is between David Cameron and Ed Miliband.
"I hope very much to be Mayor of London."
Mr Johnson also insisted he could not see how a ministerial position would be compatible with his job as Mayor of London, which will end in May 2016 - and added that Cameron would not invite him to be a minister anyway.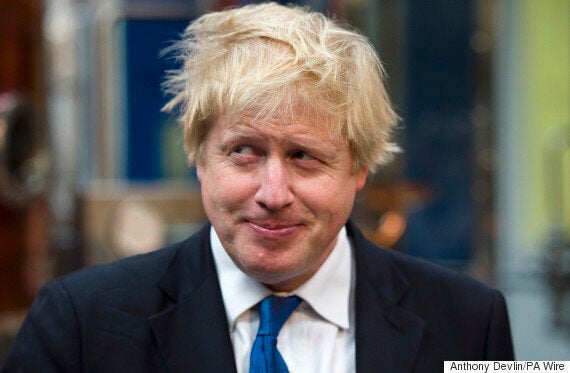 Johnson spoke about his plans for the coming year today
Mr Johnson stressed that his current mayoral position was like running a big budget government department already.
On a visit to the site of a new Intercontinental hotel in North Greenwich, Mr Johnson was asked if there are rules against being a minister, MP and mayor at the same time.
He replied: "I don't know what the rules say, in fact I don't think there are any rules, but the job of Mayor of London is effectively like running a big department of state.
"There's a £16 billion budget or whatever, there's lots of executive stuff.
"What you can do is be an MP, just as you can be an MP and run a big department but I think to do another big budget-wielding department would be pretty tricky."
After he steps down as mayor, the road would be clear for Mr Johnson to be promoted to government if the Tories form it and he becomes MP for Uxbridge and South Ruislip.
But asked to rule out becoming a minister while he is still mayor, he didn't. "I just don't see how," he said.
"It's not for me to rule out, the Prime Minister has already made his views pretty clear about that."
Asked if he had a dream job in the government, Mr Johnson replied: "I've got a dream job it's called Mayor of London.
"As I've explained I have to serve that.
"Obviously I would be very honoured but I've got to do the job of Mayor of London until May 2016."
Mr Johnson also joked that the colour of the so-called Boris bikes for hire in London changing from blue to red was not indicative of what is happening in the General Election campaign.
The mayor said he was still hoping for a Conservative majority on May 7 as voters will focus their minds more.
Asked if he was worried about opinion polls remaining stubbornly deadlocked and whether the hire cycles were an omen, Mr Johnson said: "It's nothing to do with the colour of the bicycles."
"I think really that loads of people have yet to make up their minds, genuinely I'm finding this everywhere I go in the campaign and I think that they will focus, focus, focus I think in the last week or so on that choice.
"Do you want stability, certainty, security, taking the economy forward or do you want to risk chucking it all away?"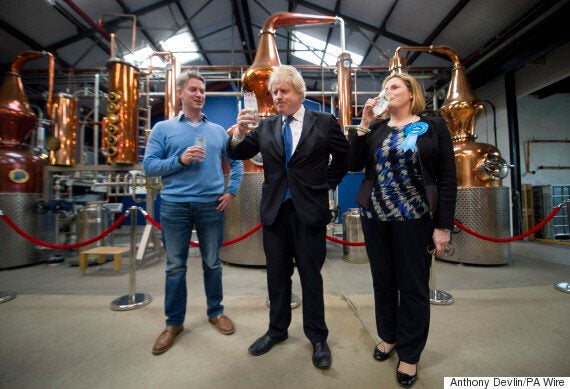 Johnson and Mary Macleod, Conservative Parliamentary Candidate for Brentford and Isleworth (right) sample gin with Sipsmith founder Fairfax Hall (left) during a visit to Sipsmith's Gin distillery in London
Mr Johnson campaigned in West Acton in the afternoon as he tried to bolster support for his potential return to Parliament.
After visiting the Al Falah Islamic Education Centre and meeting staff at a nearby business, Mr Johnson snubbed the offer of free ice cream - insisting he did not want to break any rules.
As he was presented with an ice cream with a flake in it, the Mayor said: "Oh my God. I've got to buy this. I've got to buy this - I've got to buy this under election law.
"Come on, you're going to take my money."
Mr Johnson paid for the ice cream.
During a walkabout in the area, the Tory was stopped repeatedly as people took selfies with him.
He later visited Turnham Green in support of Tory candidate Mary Macleod.
Mr Johnson stopped traffic as he zigzagged from shop to shop although at one stage was confronted over his record as mayor, including on transport projects.
A trip to Sipsmith, a micro-distillery, rounded off the trip and saw him drink gin and pose for photographs with staff.