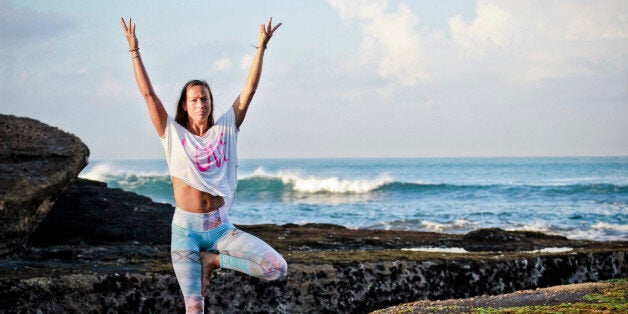 Next time you pop out to lunch and grab yourself a salad and bottle of water, try to think beyond the food that you're about to a gobble and spare a thought for the container you're eating out of - or, more importantly, where it's going to go when you're finished eating.
The effect on the environment is devastating. Marine animals and birds are arguably the worst victims, with many becoming trapped in discarded waste or mistaking plastic for food and digesting it.
But one brand is hoping to help combat the problem. Teeki, a women's activewear brand, intercepts PET plastic bottles and turns them into clothing, offering everything from bikinis to yoga leggings.
"The pollution problem is not something to be taken lightly," says Katie Cotton, 39, who brought Teeki to the UK in 2013. "It's estimated that these plastic bottles may take up to 400 years to degrade (or longer) So we're reusing these bottles for the greater good and to make a statement about the environment."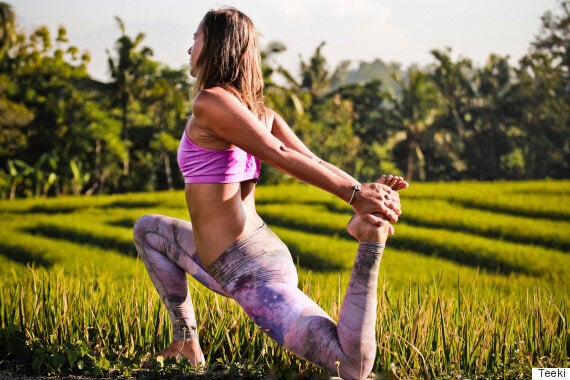 One pair of Teeki yoga leggings recycles approximately 25 discarded plastic bottles and even the process, which is carried out in a warehouse powered by solar panels, is eco-friendly.
Firstly, plastic PET containers are picked up at community recycling centers. Containers are then sorted by type and colour, stripped of their labels and caps, and washed, crushed and chopped into tiny pieces.
These particles then go through a series of melting processes to make them into fiber which can be processed into fabric.
"The process uses 90% less water than traditionally created when making fabrics," says Cotton.
The fabric produced is an eco-friendly polyester yarn and it is Green Mark approved, meaning it complies with environmental legislation. The white yarn is 100% post-consumer recycled polyester, while the black yarn is made with 95% post-consumer recycled polyester.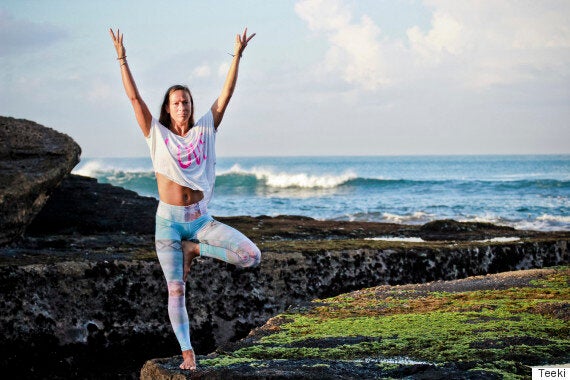 The company was first created by Lindsay Hemric in California in 2012 and its success has led to international expansion. In 2013, Teeki was brought to the UK by Cotton and her business partner Tiffany Mackenzie-Shapland, a yoga teacher.
"I've always lived by the sea and in the countryside, so the environment has always been very close to my heart," says Cotton, who lives her husband Andrew, 35, who is a professional big wave surfer, and their children, seven-year-old Honey and three-year-old Ace.
Teeki certainly echoes her sentiment. The products come in various designs including cloud formations, elephants and leopard print, to remind wearers of the environmental causes at the heart of the product.
"Beach pollution is a problem facing oceans around the world," says Katie. "Waste is routinely dumped and too close to the shores. The local community regularly pull together to carry out beach cleans to maintain our beautiful beaches."
"From a young age I've been quite an activist," she adds, laughing. "I used to draw pictures of seals and post them through my neighbours' letter boxes to highlight the need to protect marine life."
Hooked? Teeki leggings are available to buy on their website or look out for their stall at UK festivals throughout summer.
This April we're running a Fitspiration campaign, where we're championing fitness as a positive addition to life rather than always being about weight loss. From inspirational interviews to easy-to-follow exercise tips, we hope to inspire everyone to get out there and have fun. Trust us, your body will thank you for it. If you'd like to contribute email uklifestyle@huffingtonpost.com or tag us on social media using the hashtag #HPFitness