Emergency services mounted a major search and rescue operation north of Libya after a ship containing hundreds of migrants trying to reach Italy overturned in the Mediterranean.
Italy's ANSA news agency said an estimated 700 people were aboard and only 28 people had been rescued.
At the same time as the tragedy unfolded, Hopkins was given a slot on LBC Radio to debate her position that gunships should be used to turn such boats back to their country of origin.
She said: "Why do we take one everyone else's problems? We can't afford to take on these problems. We need to push these boats back.
"And we should make a huge bonfire from these boats so they can't be used again. If we rescue boats we are perpetuating the problem."
Many callers were sympathetic to her views with one simply saying: "If the boat sinks then tough."
One who disagreed with Hopkins was shut down by the guest host. Hopkns said: "I'm going to shut you down there because it's boring me. Go back to reading your Guardian."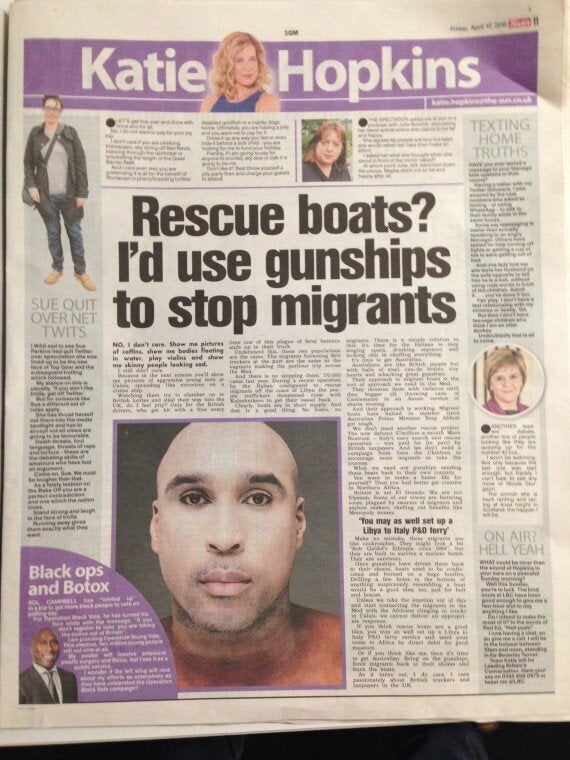 Katie Hopkins writing in Friday's Sun
Here's a reminder of what was in Hopkins' original post...
NO, I don't care. Show me pictures of coffins, show me bodies floating in water, play violins and show me skinny people looking sad.

I still don't care.
Make no mistake, these migrants are like cockroaches. They might look a bit "Bob Geldof's Ethiopia circa 1984", but they are built to survive a nuclear bomb. They are survivors.
It's time to get Australian. Bring on the gunships, force migrants back to their shores and burn the boats.
Barbara Molinario, spokeswoman for the United Nations refugee agency, said the Italian Coast Guard operation is continuing and the number of victims in the capsizing is not known.
"It's clear that a boat overturned and there are people missing, but on numbers (dead or alive) it's too soon to tell," she said.
The capsizing comes amid a wave of migrants trying to leave Libya for Italian shores. They seek to take advantage of calmer seas and warm weather to make the dangerous crossing on smugglers' boats.
So far, at least 900 have died trying this year as the overcrowded boats capsize.
If anywhere close to 700 people are confirmed to have died, this would be the deadliest toll from a single capsizing. Just last week, 400 people were presumed drowned when another boat capsized.
On Saturday, Pope Francis joined Italy in pressing the European Union to do more to help the country cope with the soaring numbers of arrivals, which include more than 10,000 in the week ending Saturday.
Italy says it will continue rescuing migrants but demands that the European Union increase assistance to shelter and rescue them. Italy says the EU's border control agency, Frontex, must take a greater role in coordinating rescue operations. Frontex technically is a border patrol operation, not responsible for search and rescue efforts.
Because most migrants want to reach family or other members of their community in northern Europe, Italian governments have pushed for those countries to do more, particularly by taking in the migrants while their requests for asylum or refugee status are examined.
The European Union's commissioner for migration, Dmitris Avramopoulos, says a new policy will be presented in May. He also has called for other EU members to provide more aid to Italy.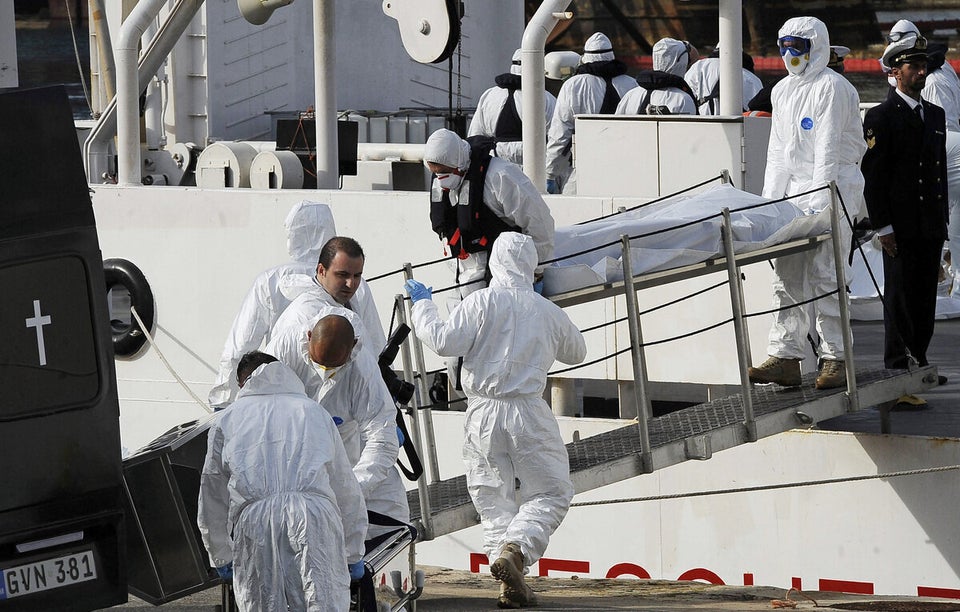 Migrant Tragedy