Sturgeon confirmed she would lead any post-election discussions with the Labour leader on a possible deal between the two parties in the event of a hung parliament, however said she could not give Miliband a guarantee of no referendum in return. She said: "I have made very clear that if you vote SNP in this election, that is not a vote for independence, nor is it a vote for another referendum.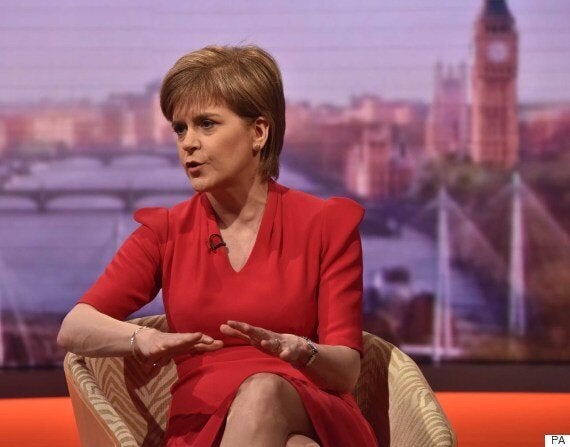 SNP leader Nicola Sturgeon appearing on the BBC1 current affairs programme, The Andrew Marr Show
"I'm not planning another referendum," she added. "Why do I fall short of categorically ruling it out? Because I don't think as a single politician I have got a right to do that. Whether there is another referendum, and whether Scotland becomes independent is not a matter for me to decide. It is a matter for the Scottish people to decide."
Sturgeon rejected the view that the SNP would attempt to cause disruption at Westminster to further its goal of independence. She said the party wanted to work for "progressive change" across the UK. "I think there are many people in Labour's ranks, including on their backbenches now, and perhaps in future, who would have the same view as me on many of these issues," she said. "There is an opportunity to build progressive alliances for progressive policies. It is a real rather than a pretend alternative to austerity.
"I've got to persuade people that the SNP in the House of Commons after the election will not be any kind of disruptive force. We want to be constructive, to get better politics coming out of the Westminster system. As long as Scotland remains part of the Westminster system, it matters to people that we get good decisions out of that system, and I want the SNP to play a positive part in improving politics at Westminster for people right across the UK."
Speaking on BBC Radio 5 Live, Alex Salmond said the SNP had received "thousands of applications from people in England who want to join the SNP" following Sturgeon's performance in the televised leaders' debates. He said audiences "seemed quite enamoured by the prospect of Nicola Sturgeon's politics having an influence in the House of Commons. You have really got to divide the attitudes of the Westminster political establishment from the people of England," he said.
Asked about concerns over a Labour minority government supported by the SNP in an informal arrangement, Salmond said: "The voters, the people, the real people ... they are not evincing that concern. The people who are evincing that concern are Westminster establishment politicians."
Responding to Sturgeon's comments, Scottish Labour's deputy leader Kezia Dugdale said: "The referendum just 213 days ago was supposed to be a once-in-a-generation deal. Nicola Sturgeon's refusal to rule out a second referendum in the lifetime of the next parliament, let alone the generation she promised the people of Scotland, makes it clear the SNP have gone back on their word."
Alex Salmond moved on Saturday to increase the pressure on the Labour leader, suggesting he will find it difficult to avoid doing some form of deal with the SNP in the event of another hung parliament. He said all parties would have to face up to the "electorate's judgment" after polling day, adding that Miliband had been "foolish" to rule out a coalition with the and suggested that he reacted because he was "under pressure from the Conservative press."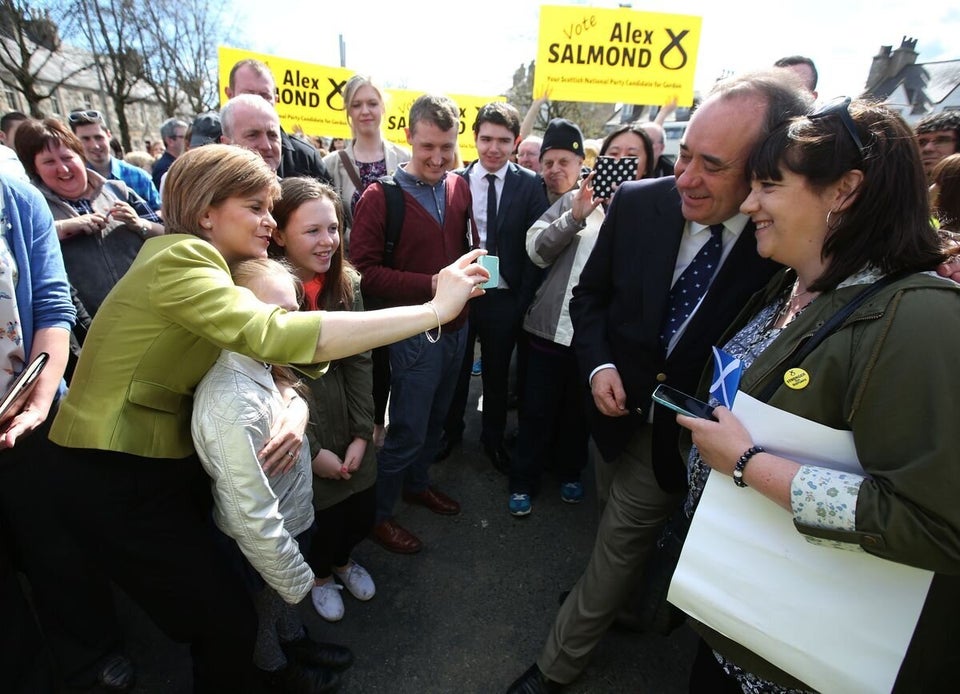 Sturgeon and Salmond Double Act