Warning: article contains images that some readers may find distressing
When logging on to social media you expect to be inundated by photos of brunch, cats and 'wish you were here'-style holiday snaps, what you don't expect is to be confronted with gruesome photos of someone's nose job.
But that's precisely what hundreds of thousands of Rhiannon Langley's followers can expect to find next time they go online.
The 24-year-old hairdresser from Melbourne has taken to live-blogging her cosmetic surgery recovery using the hashtag #rhiannongetsrhino. So far her posts have only made it to Snapchat, but she says she will still be posting to Instagram. Lucky us.
"I just want it to suit my face and be a lot smaller, a smaller side profile and not so long," she says in a Snapchat video before the surgery.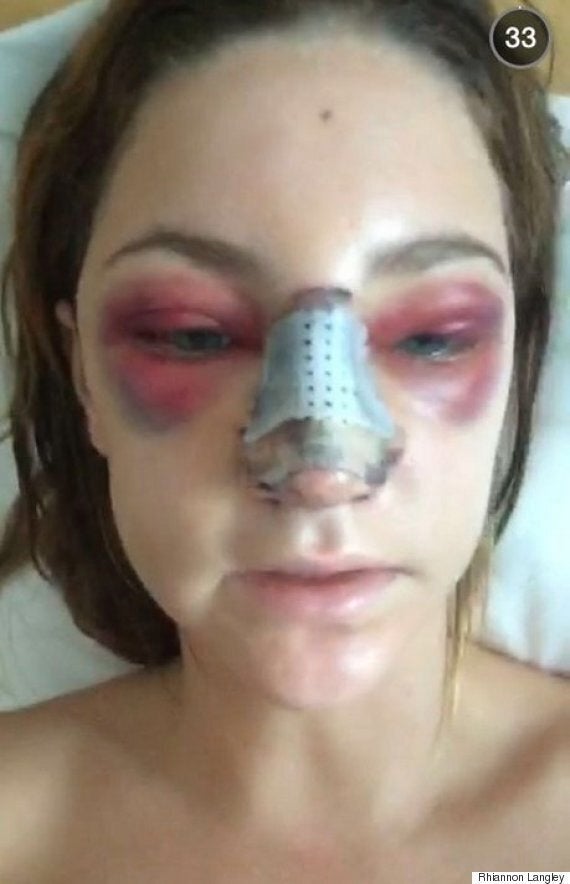 "It's something I've always wanted to do. Mostly I want this bit (the tip) gone, it's mostly just cartilage, it hangs to the right and my nose is very long for my face."
Rhiannon travelled to Thailand for the procedure, because she couldn't afford to have surgery in Australia.
"The price difference [between Australia and Thailand] is huge," she told DailyMail Australia. "I'm getting married in a year, so I couldn't afford to have the surgery in Australia."
Speaking to her thousands of followers after the operation last week, she said: "The surgery went really well. I know this looks like a lot of pain but I can't feel anything because of the drugs."