New Zealand produces some of the most physical rugby players in the world, but the World Cup winning nation has been cited in plans to stop school children from getting injured while playing the sport.
Academics at Queen Mary University of London say not enough is being done to protect children from injury under a "worrying" government plan to promote rugby in schools.
The experts cited studies suggesting 12% of children and teenagers who play rugby sustain an injury severe enough to be sidelined for seven days. Scrums were the "most dangerous phase of play", the researchers said.
Under a youth sport strategy announced after the London 2012 Olympics, the Government selected rugby union and rugby league among five sports to receive additional funding and support.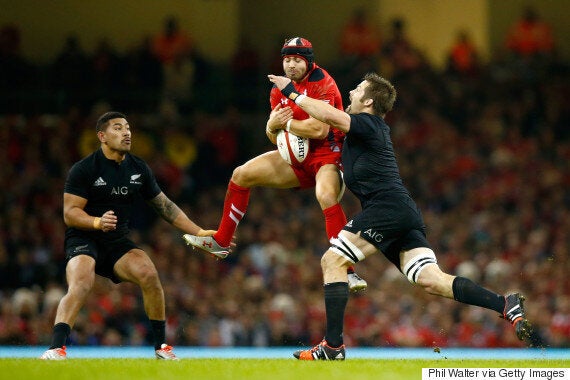 Crunch: Leigh Halfpenny of Wales is tackled by Richie McCaw during the Intenational match between Wales and the All Blacks in November last year in Cardiff, Wales.
The academics, writing in the British Medical Journal, said the UK's monitoring of injuries in children who played the sports was "inadequate", and cited the monitoring and prevention system in New Zealand as a successful model.
Professor Allyson Pollock, along with two colleagues, wrote: "Given that children are more susceptible to injuries such as concussion and often take longer to recover fully, the Government's plan to increase funding of and participation in rugby in schools in the absence of a comprehensive system for injury surveillance and prevention ... is worrying.
"Only by collecting injury data and by providing feedback to individuals and organisations working on safety initiatives will the short and long-term effects of injury prevention programmes, whether for rugby or any other sport, be known."
But former England hooker Brian Moore said the injury rate in rugby should be compared with other sports.
He said: "Without a ranking of risk per sport, parents have no way of knowing whether rugby is any more dangerous than any other sport and cannot make a reasoned choice," he wrote in The Telegraph.
"To try and prevent sport being promoted on the basis of such a flawed methodology is not only poor, it is wrong."