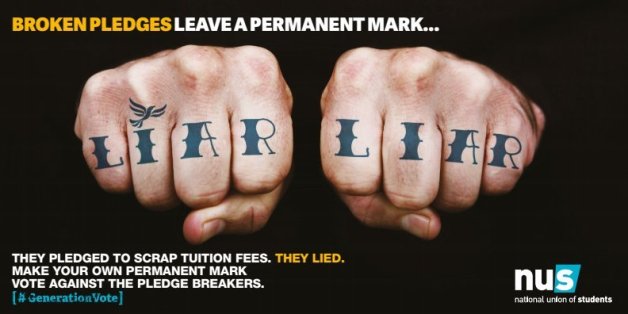 NUS
The National Union of Students will put up three more anti-Liberal Democrat billboards from Thursday, despite opposition for the campaign from students.
The billboards will be located in train stations at London Victoria, Sheffield Central, and Manchester Piccadilly from midnight Wednesday until May 8.
The campaign, which VERSA confirmed cost the NUS £40,000, focuses on the Liberal Democrats' broken promise to prevent tuition fees from rising in the 2010 general election.
NUS President Toni Pearce said: "Nick Clegg and all of the other pledge breakers toured campuses all over the country and made personal promises to students. They signed pledges. They held them up for photo opportunities, and used each as currency for election.
"Students queued to vote for the Lib Dems in 2010 on the sole basis of this pledge. It wasn't a minor misdemeanour. It was an outright lie. We have an obligation to hold them to account for this, and we will."
So proud to be calling out pledge breakers who lied to students in 2010! #sorrynotsorry #generationvote #liarliar pic.twitter.com/lD6xXjhmIc

— Raechel Mattey (@RaechelMattey) April 16, 2015
Since the campaign started a week ago, the NUS has come under fire for being politically biased. A Facebook event has been set up in response to the campaign asking people to donate to the Liberal Democrats in order to "make the NUS executive think twice in future about pushing a Labour Students narrative, especially given that the party that actually introduced fees is getting decidedly less of a spotlight".
In a blog written for the HuffPost UK, 19 year-old Chris Witting said: "the so-called National Union of Students has done nothing but disunite the student population by propagating votes for their chosen political ends on the back of a false pretence whilst typecasting 10% of the student population as supporters of poisonous liars."
On Twitter, a few people had this to say on the matter:
Never donated to a political party before but the NUS' recent campaign has outraged me I know who I'll be voting for @trollNUS @LibDems

— Ashley Coates (@AshleyCoates25) April 17, 2015
Hope students ignore the NUS' nonsense & vote @LibDems, the party with the most youth friendly policies; Rent to Buy, 2/3 off bus fares, etc

— Stephen Howse (@liberalstephen) April 16, 2015
So NUS have paid a fortune for this ad campaign attacking the Lib Dems over tuition on fees and they wouldn't even support the Free Ed demo.

— Lucy (@Lucys96) April 22, 2015
Ben Parr, a student from the University of Bristol, said that the NUS "should be ashamed" of the campaign. Writing on HuffPost UK, he added: "It worries me that an organisation as large as the NUS thinks it is a good use of their money to try and over simplify politics and make it into a one policy election.
In future, I hope that they will be more careful with their campaigns and leave the propaganda for the politicians."