Taking inspiration from his namesake St George, the Chancellor yesterday declared: "We have recaptured the English flag."
As the Conservatives launch their 'English manifesto', George Osborne was clearly keen to show his patriotism.
Posing with the English patron saint's flag at a pub yesterday, he told the Sun: "Our country has changed. The flag of St George is something we're proud to fly.
"We have recaptured the flag from when I was a kid."
The party today launched their first 'English manifesto', promising changes to ensure that English MPs have the final say on income tax rates in England.
The manifesto sets out a timetable for the implementation of Conservative plans for English votes for English laws in the House of Commons within a year of the May 7 election and a promise to extend it to financial issues, in reflection of the devolution of tax-raising powers to Scotland.
From the Budget expected in March, whenever taxes have been devolved to Scotland, Conservative plans would require the consent of English, Welsh and Northern Irish MPs to set the level in those parts of the United Kingdom.
Osborne said: "There are going to be more powers for people in Scotland and Wales, and it's imperative we don't allow England to be unfairly treated or left out.
"It's also crucial English MPs don't have imposed on them an income tax rate voted on by Scottish MPs when that rate wouldn't imply in Scotland.
"That would be grossly unfair, so they will have a veto."
Launching the English manifesto today, Mr Cameron is expected to say: "We do not support English nationalists, we do not want an English Parliament, we are the Conservative and Unionist Party through and through. This manifesto simply recognises that the democratic picture has got more complicated in the UK, so beyond our main manifesto, English voters deserve one document, clarifying in black and white what they can expect.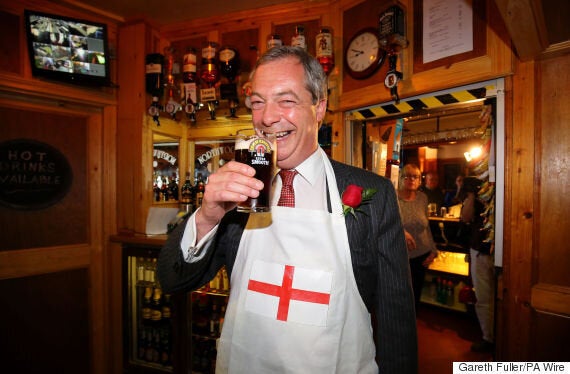 Nigel Farage doing what Nigel Farage does best on St George's Day
"Soon, the Scottish Parliament will be voting to set its own levels of income tax - and rightly so - but that has clear implications.
"English MPs will be unable to vote on the income tax paid by people in Aberdeen and Edinburgh while Scottish MPs are able to vote on the tax you pay in Birmingham or Canterbury or Leeds. It is simply unfair.
"And with English votes for English laws we will put it right."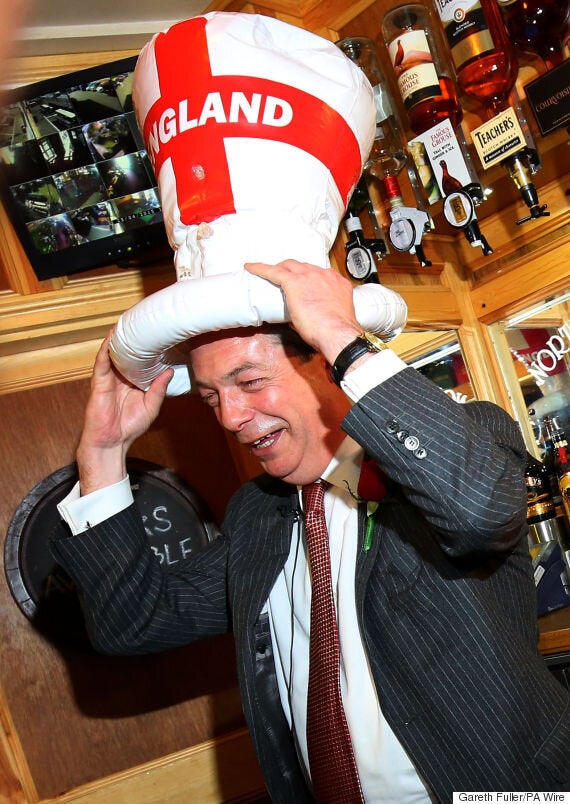 Fair play the man knows what he's doing
While Osborne certainly looked like he was trying in his patriotic get-up, no one was surprised to see Nigel Farage pretty much out-Farage himself in his St George's day photos yesterday.
The Ukip leader was snapped in his favoured pose (slurping a pint of beer), dressed in an apron and plastic bowler hat plastered with the English flag. He also
We hate to say it but he's sort of an expert at this isn't he?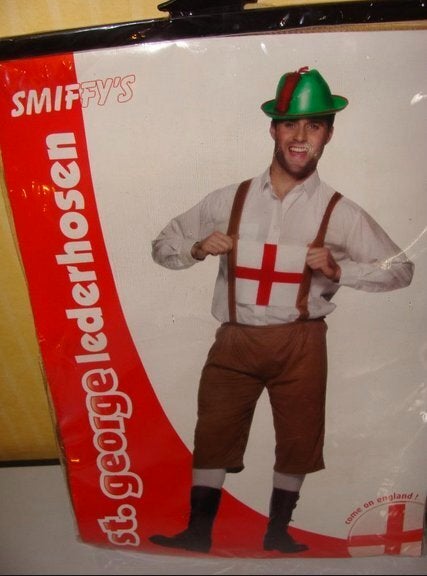 Stupid St George's Day fancy dress