Luisa Zissman has piped up, following the recent row over Protein World's 'Are You Beach Body Ready?' ad posters, which have been popping up on billboards and in tube stations in recent weeks.
A number of people, including body image campaigners and feminists, have slammed the brand's ads for their 'Weight Loss Collection' of meal-replacement products.
Luisa, who is a brand ambassador for Protein World, has now hit back at critics, telling the Mirror: "I personally think the controversy surrounding protein world is the extreme feminist brigade letting off some bra burning steam once again.
"Protein world is a healthy way to gain the much-longed for summer body, that many women and men diet and exercise for."
The former 'Celebrity Big Brother' star continues: "I have previously starved and extremely exercised to look beach body ready, and now with a proper exercise regime that protein world helped me devise and drinking slender blend shakes I am strong, fit, toned and healthy.
"I'm not underweight or overweight. I'm a healthy 27-year-old. I think protein world promote a healthy body image. People need to learn that exercising and eating well supplemented with a product like protein world is a good thing."
Luisa also took to Twitter, posting:
People are protesting again @ProteinWorld campaign this weekend. How about all the ppl who enjoy a fit & healthy lifestyle join too? #fitfam

— Luisa Zissman (@TheLuluLife) April 28, 2015
Over 51,00 people signed an online petition calling for the ads to be removed, and the petition's organisers have explained their reasoning on change.org, writing: "Perhaps not everyone's priority is having a 'beach body' (by the way, what is that?), and making somebody feel guilty for not prioritising it by questioning their personal choices is a step too far.
"A body's function is far more intricate and important than looking 'beach ready', so in fact it is Protein World who have confused their priorities, if anyone."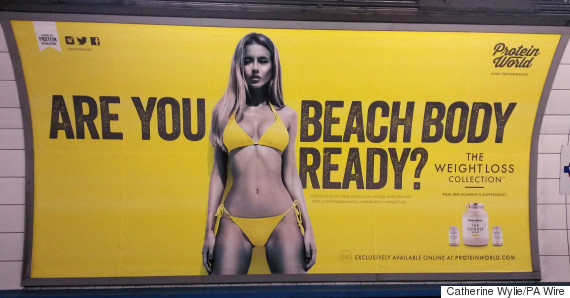 The ad in question
Luisa isn't the only star to speak out in favour of the brand, and - *puts sarcastic face on* - Katie Hopkins also made the unusual decision to say something controversial, by supporting Protein World in a string of tweets. How out of character, eh?
On Tuesday morning, there appeared to be a small victory for the campaigners, as TfL confirmed plans to remove the ads from London Underground stations and trains.
LIKE US ON FACEBOOK | FOLLOW US ON TWITTER