The controversy over an advert which asks 'Are you beach body ready?' just went up a notch – thanks to Katie Hopkins.
The Protein World advert, which appears in London Underground stations, features a model in a bikini and is advertising the brand's weight loss collection.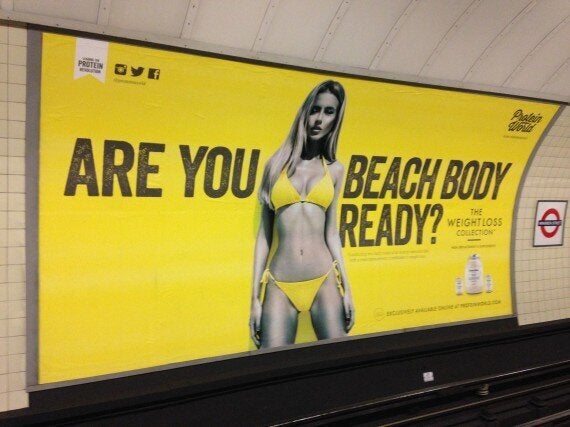 The Protein World ad that's got everyone talking
The Former Apprentice and Celebrity Big Brother star, who has been outspoken about her own weight in the past, said in a series of tweets: "Chubsters, quit vandalising Protein World ads and get your arse running on the road. Feminism isn't an excuse for being fat. Eat less, move more.
"Ads for 'beach body ready' vandalised. Society has huge acceptance for being fat - but masses of abuse for being skinny.
"We are cheer leading chubsters, 'brave' 'beautiful inside and out' but we are quick to shame those with self-control, eating in moderation.
"Let's get the Protein World ads at the top of stairs and steep hills. get the chubsters with their sharpies shifting their chubby arses.
"Off for a run. Angry chubsters - feel free to catch me and tell me about your 'medical issues'."
The company's Twitter account retweeted some of Hopkins' missives and has also stated that it is "Here to motivate, not commiserate", using the hashtag #getagrip.
Head of marketing Richard Staveley said: "I think much of what is being said and shared online, Katie is obviously in agreement. It's great to have somebody of such high profile getting involved at all, because it's obviously something that we want to be discussed.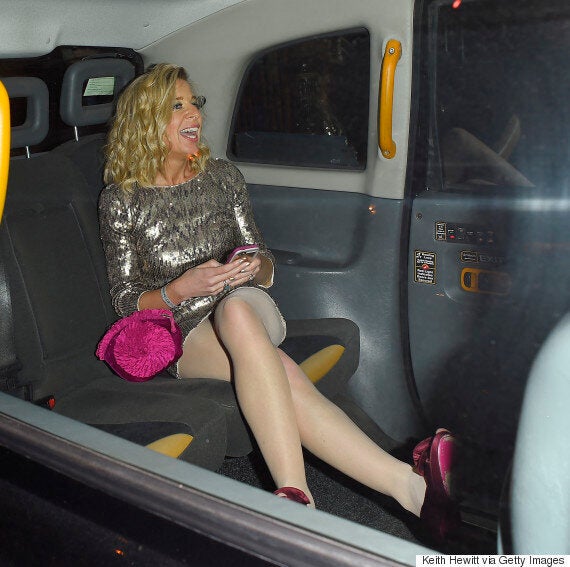 Angry chubsters: Katie Hopkins
"We want to encourage discussion on this. Ultimately we want to encourage a healthier, fitter nation. We want to encourage everybody to be the very best version of themselves.
"It has been quite odd how many people we've found who are far quicker to fit shame than fat shame.
"And you know if that makes us bad then so be it, and if Katie Hopkins is in agreement with us then we're delighted."
While Protein World has retweeted Hopkins, Staveley says a retweet does not mean endorsement and he added there is "no concern" on behalf of the company regarding the petition.
"We won't be removing the ad. I mean, there's more than two and a half million people use the London Underground every day and, like I say, sales have considerably jumped, so regardless of that 40,000 I think I can comfortably say that we've had ... it's been better for us, there's been far more positive reaction than negative," he said.
Staveley said they "always welcome constructive criticism" but said there were "some serial perpetual complainers out there".
He said some of the criticism has demonstrated "irrational extremist behaviour", such as the "vandalising" of adverts.
Staveley said Protein World is "not a faceless corporation that's just going to sit silently", adding: "We're a brand with a personality and that means there will be certain level of engagement across our social media channels which might take some people by surprise."
He said he fully endorsed that engagement, adding: "That's part of our strategy."
Staveley said if significant "vitriol" is directed towards Protein World, they are not going to "sit back and ignore it".
The petition, which has more than 43,000 signatures, says: "Protein World is directly targeting individuals, aiming to make them feel physically inferior to the unrealistic body image of the bronzed model, in order to sell their product.
"Perhaps not everyone's priority is having a 'beach body' (by the way, what is that?), and making somebody feel guilty for not prioritising it by questioning their personal choices is a step too far.
"A body's function is far more intricate and important than looking 'beach ready', so in fact it is Protein World who have confused their priorities, if anyone."
According to its website, Protein World is "leading the protein revolution with a new and innovative range of pure, GMO-free supplements to help you become healthier, leaner, fitter and stronger".
It says their weight-loss supplements will "help raise your metabolism and burn fat fast".
The Advertising Standards Authority (ASA) said it has received 216 complaints about the ad, and a spokeswoman said the general nature of the complaints is that the ad is "offensive, irresponsible and harmful because it promotes an unhealthy body image".
An investigation has not been launched but the ASA said they are "carefully assessing" the complaints to "establish if there are grounds for further action".
Earlier this month, the ASA investigated nine issues regarding Protein World's website and upheld all of them.
Questions had been raised over whether a number of health and nutrition claims were authorised on the EU Register, and a competition featured before and after photographs which implied a rate or amount of weight loss.
The ASA ruling said: "The claims must not appear again in their current form. We told Protein World Ltd not to make health claims for foods if they were not listed as authorised in the EU Register and to ensure their sales promotions were administered in line with the requirements of the CAP Code."
A Transport for London (TFL) spokeswoman said: "The advert submitted for display on our network by Protein World was approved as it complied with our advertising policy."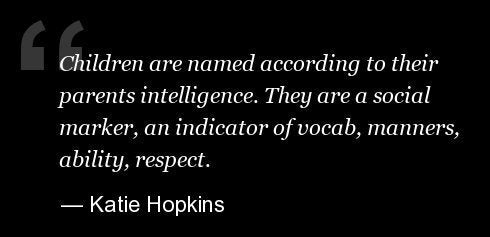 Katie Hopkins' Most Controversial Quotes