The latest chapter in Labour's complicated relationship with comedian turned activist Russell Brand is about to be written, with the party's new sex symbol spotted leaving Brand's house late at night.
As teenage girls all over Britain express their #Milifandom, a shadowy picture has emerged on Twitter appearing to show Labour Leader Ed Miliband leaving Brand's house at around 10pm on Monday.
While Mrs Miliband clearly has nothing to fear, the Labour leader's appearance at the home of London-based activist could be awkward for all sorts of other reasons.
Brand has previously called Ed Balls a "clicky-wristed snidey c**t," prompting the shadow chancellor to respond that the comedian was a "pound shop Ben Elton" - a reference to when Brand called Nigel Farage "a pound shop Enoch Powell".
A Labour Party spokesman said: "Ed was doing a media interview like he often does. We look forward to it being broadcast."
Twitter suggested going to see Brand was the next step in Miliband's sexpot evolution.
But Prime Minister David Cameron clearly wasn't impressed by the company Miliband was keeping. At a campaign stop in Enfield, north London, the PM said: "He (Brand) says don't vote, that's his whole view, don't vote, it would only encourage them or something.
"That's funny, it's funny.
"But politics and life and elections and jobs and the economy is not a joke.
"Ed Miliband, to hang out with Russell Brand, he's a joke.
"This is not funny, this is about the election, this is about our future, it's about jobs, it's about the economy, it's about the recovery.
"I haven't got time to hang out with Russell Brand.
"This is more important, these are real people, this is what the election is all about."
The series is a cornerstone of Brand's new persona as a full-time revolutionary. He has used it int he past to attack politicians and the media and talk about subjects in the news.
He said: "I like Ed Miliband but I feel he's been so bullied in to 'Ed, you don't come across as normal'. They use that word 'wonk' to describe people that use political language.
"He's sort of 'wonky' but he's wonky in loads of ways it's like he embodies wonkiness as a sort of of wonkiness to him. When he's trying to act all louche? leaning in the podium overusing people's names, like he's overusing names to ridiculous degree."
Brand's recent transformation from actor to self-styled revolutionary has been centred his claim that people should not vote.
He has released a documentary, 'The Emperor's New Clothes', criticising growing inequality between the rich and the poor in Britain.
Following a screening last week, Brand, 39, said the General Election was "irrelevant", adding: "Because there's an election it's a good time to market a film about politics and people are more aware of politics.
"I think people want me to talk about the election but watching it again it just makes me think there's no justice, it's dead."
So on that note, Brand endorsing Labour in this election looks unlikely.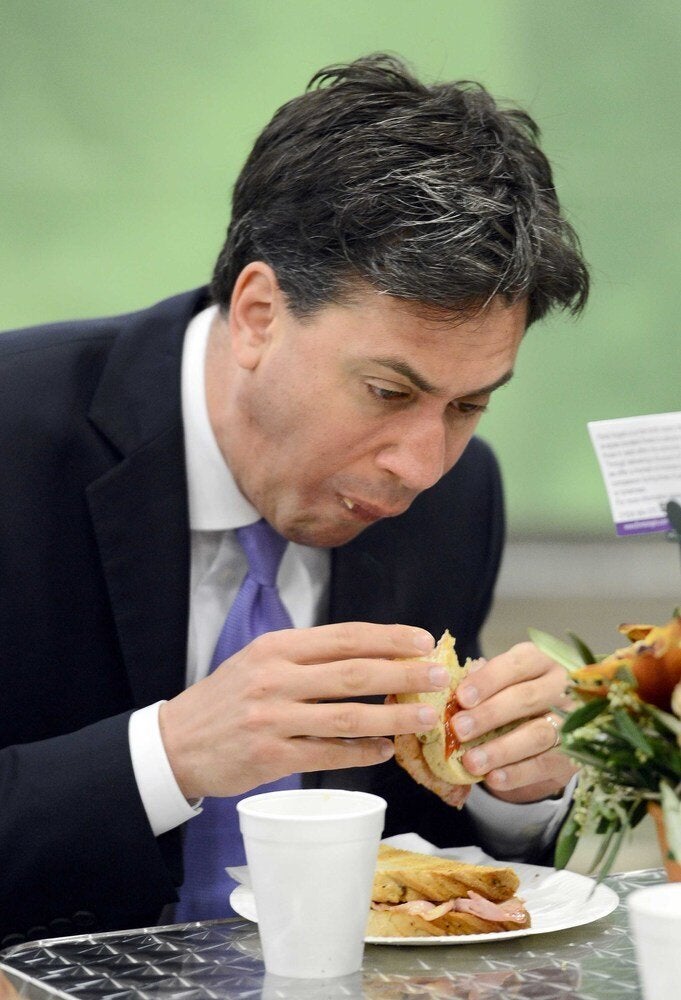 Ed Miliband's Sexpot Evolution
Related