True love is when your boyfriend makes you take an exam about his favourite football team and threatens to dump you if you don't 'pass'.
It was posted by a Twitter user with the handle @saskiaisabxlla and shows the exam she claims was set to her by her other half.
Along with pictures of the Arsenal test, she revealed her score – 87% or 43.5/50 (a grade 'A' if you were wondering) and crucially, her boyfriend's feedback.
Said boyfriend had written: "Could have performed better in Q17. [Q17 asked: 'In your own words, explain why Alexis Sanchez is better than Eden Hazard. @saskiaisabxlla answered: "Sanchez is buff".] Learn ALL player positions!! Tottenham are scum."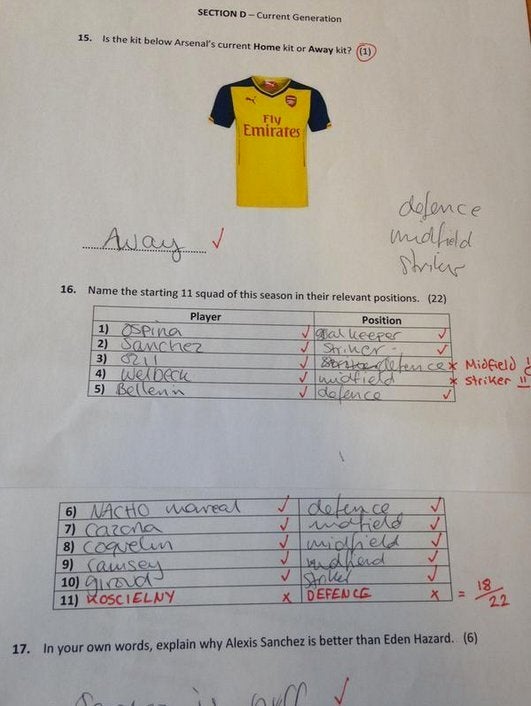 Arsenal test
And he finished off with this blinder: "Well done, Saskia. As a result, I will not be dumping you! (lucky you)"
Within two days it had been retweeted 14,000 times and favourited 11,000 times.
Sajan Gupta wrote: "I salute your boyfriend! And you deserve a medal for being such a sport!"
Trimothy asked: "Where can I get this test from????" and The Twelfth Man replied: "Can he upload this somewhere? Miss 12th will need to complete before I take her on holiday."
But it wasn't all japes and praise. The Arsenal simply tweeted: "Your boyfriend is a knob," while Modn World ventured: "I bet he'd fail an exam about a woman's body."