One of the world's toughest athletes, Jon Jones, has been stripped of his UFC light heavyweight title and suspended indefinitely following his arrest in New Mexico for a hit-and-run that police say left a pregnant woman with a broken arm.
Following the announcement Jones tweeted: "Got a lot of soul searching to do. Sorry to everyone I've let down."

UFC star Jon Jones has been suspended indefinitely from the sport after being arrested for a hit-and-run that police say involved a pregnant woman
UFC President Dana White and CEO Lorenzo Fertitta met with Jones in Albuquerque before making their decision, which will tap-out his career prematurely. Jones is widely considered the world's best pound-for-pound mixed martial artist.
"He's very disappointed. He's upset," White told Fox Sports, .
"He wanted to go down as one of the greats, or the greatest ever. He's disappointed, but it is what it is. It was the decision we had to make."
Jones was scheduled to face No. 1 contender Anthony Johnson at UFC 187 in Las Vegas next month, headlining one of the promotion's biggest shows of the year.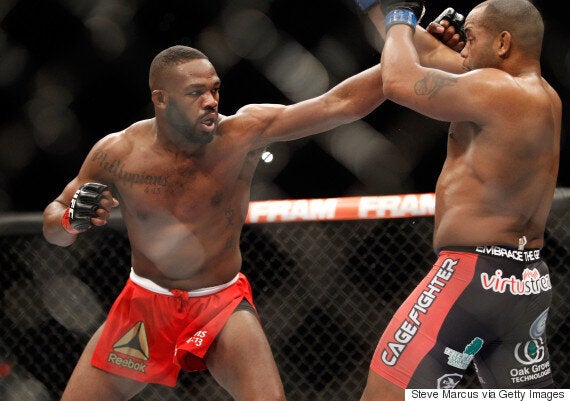 Jones punches at Daniel Comier during the UFC 182 event at the MGM Grand Garden Arena earlier this year
Cormier was scheduled to fight on a card in New Orleans in June, but agreed to take his second straight title shot on 3 1/2 weeks' notice.
White said: "For us to have to go in and strip him of his title and suspend (Jones), you know, it's not fun.
"But the show goes on. Anthony Johnson is ready for this fight, and Daniel Cormier was beyond pumped to get this opportunity."
Jon Jones tweeted about his indefinite suspension and apologised for his actions
Jones' talent and personality have made him one of the UFC's most prominent figures and a staple of its pay-per-view shows. He became the youngest champion in UFC history in March 2011, and he defended the 205-pound belt eight times.
Earlier Tuesday in Albuquerque, Jones, 27, made his first court appearance with his lawyer, and left without speaking to reporters. He faces a felony charge of leaving the scene of an accident involving death or personal injuries.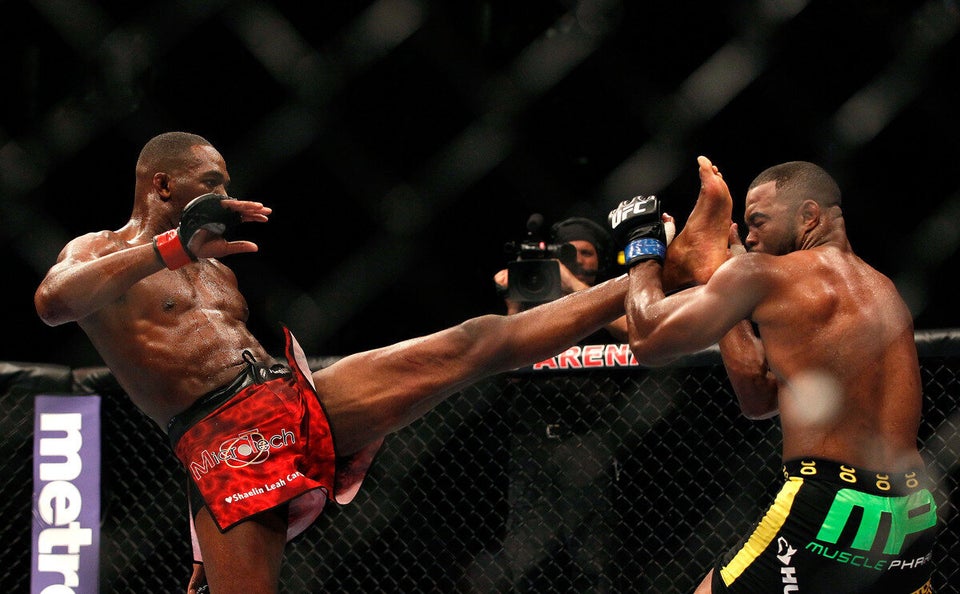 UFC star Jon Jones suspended
Jones was released Monday on a $2,500 bond. A judge did not impose travel restrictions.
According to police, witnesses said that Jones ran from a crash Sunday that hospitalised the pregnant woman but returned to the scene to grab "a large handful of cash" from the car. Authorities say the accident occurred in southeastern Albuquerque when the driver of a rented SUV ran a red light.
Officers found a pipe with marijuana in the SUV as well as MMA and rental car documents in Jones' name, according to the police report.
Although Jones (21-1) reigns atop the sport, his legal and behavioral problems and threatened to overshadow his talent.
Jones was arrested in 2012 after crashing his Bentley into a telephone pole in Binghamton, New York. He was charged with DWI and had his driver's license suspended, but did no jail time.
Last August, Jones and Cormier were involved in a brawl in the lobby of the MGM Grand casino while appearing at a promotional event. Jones was fined $50,000 and ordered to do community service by the Nevada Athletic Commission.
And In early December, Jones tested positive for metabolites of cocaine while training. Jones was allowed to compete because the test was conducted out of competition, and beat Cormier at UFC 182.
When the failed drug test became public, Jones publicly apologised for a "mistake," but spent just one day in a drug rehabilitation center before checking himself out.
Jones, who has two brother who play in the NFL, is a native of upstate New York, but lives in New Mexico and works under prominent local trainer Greg Jackson.
Albuquerque is a hub for MMA fighters who train at Jackson's gym and use the city's high altitude to prepare for bouts.