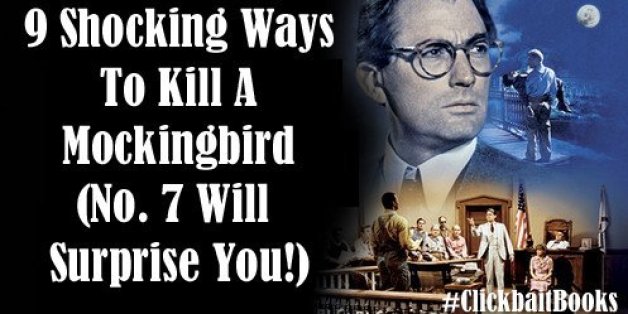 What happens when you ask Twitter to combine typical internet clickbait headlines with classic novels?
Something very, very funny. Can you guess which books these tweets are referring to?
Can you spot all 50 shades of grey? Our experts couldn't! #clickbaitbooks

— LaurenBaratzLogsted (@LaurenBaratzL) April 30, 2015
Fifty Shades Of Grey
The Party HATES Him For This One Weird Crimethink #clickbaitbooks

— #NotAllBen (@bbeennyyJ) April 30, 2015
1984
He thought he didn't like green eggs and ham. Then something amazing happened. pic.twitter.com/DLMSiRMO2K

— Gadget Inspector (@GadgetInspector) April 30, 2015
Green Eggs and Ham
You won't believe where Wally is #clickbaitbooks

— BookSource (@BookSource1) April 30, 2015
Where's Wally?
#clickbaitbooks In the beginning, God created the heavens and the earth. You won't BELIEVE what happens next.

— Andrea Mann (@AndreaMann) April 30, 2015
The Bible
You Won't Believe How Angry These Grapes Are #clickbaitbooks

— ~ (@daniel_barker) April 30, 2015
The Grapes Of Wrath
#clickbaitbooks pic.twitter.com/cjnKPNmGBl

— genre b.goode (@genrebegoode) April 30, 2015
The Picture Of Dorian Gray
Meet The Pig In Charge Of This Whole Farm! #ClickbaitBooks

— Rob Mesure (@robmesure) April 30, 2015
Animal Farm
#ClickbaitBooks 7 Things You Have To Destroy Before You Can Kill Voldemort

— Waterstones (@Waterstones) April 30, 2015
Harry Potter
We Put A Plane Full Of Boys On An Island With A Dead Pilot & A Pig. What Happened Next Will Destroy Your Faith In Humanity. #clickbaitbooks

— Scriblit (@Scriblit) April 30, 2015
Lord Of The Flies
Why is this man willing to kill for jewelry? His reasons may surprise you. pic.twitter.com/qCT0mJjLtx

— lantenengo (@lantenengo) April 30, 2015
Lord Of The Rings
33 Fun Ways to Kill A Mockingbird #clickbaitbooks

— Mollie Goodfellow (@hansmollman) April 30, 2015
To Kill A Mockingbird
Prisoner 24601: Where Is He Now? #clickbaitbooks

— J. Schindler (@FarmerLenny) April 30, 2015
Les Miserables
People are surprised to learn about this one massively useful item to have with you while hitchhiking around the galaxy. #clickbaitbooks

— Emily (@dietmoonsugar) April 30, 2015
A Hitchhiker's Guide To The Galaxy
Is this the most curious dog in the night-time ever?

April 30, 2015
The Curious Incident Of The Dog In The Night Time
Boy asks for more gruel - what happens next will BLOW YOUR MIND #clickbaitbooks pic.twitter.com/EvJK1k1AO1

— Lily Bailey (@LilyBaileyUK) April 30, 2015
Oliver Twist
This Girl Thought She Was Hiding in an Ordinary Wardrobe. You Won't Believe What Happened Next #clickbaitbooks

— Benjamin Bisset (@benjaminbisset) April 30, 2015
The Lion, The Witch And The Wardrobe
This ordinary doctor did something terrifying and you won't recognise him now #clickbaitbooks

— Felicity Morse (@FelicityMorse) April 30, 2015
Strange Case of Dr Jekyll and Mr Hyde
This Sailor bulked up in 2 weeks using 1 simple trick that Doctors have banned! See how you can too.. #clickbaitbooks pic.twitter.com/56mSjebMiu

— Kieran McCulloch (@KMcCulloch01) April 30, 2015
Popeye
7 Reasons The Great Gatsby Wasn't So Great. Number 4 Will Shock You! #clickbaitbooks

— YamKettle (@YamKettle) April 30, 2015
The Great Gatsby
SEE ALSO: