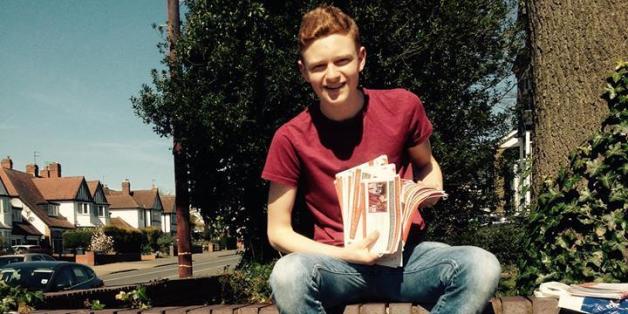 Luke Holland
Luke Holland is 18 and standing as an independent candidate for the ward of Moseley and Kings Heath in Birmingham.
Self-identifying as a "proud Brummie", he told HuffPost UK about his policies and background, and why he feels Birmingham Council needs fresh new energy.
What made you decide to run as a councillor?
I decided to run as Councillor because I was fed up. Theres only so many petitions I can sign, only so many protests I can go on until I question what those actions are actually achieving. I wanted to get in there and influence the decisions myself. I know what really happens in Brum and I don't beat around the bush when it comes to telling the truth.
Why should people vote for you?
I set up my own eco green cleaning business, Green Kleen, when I was 17. I was renting on my own at 16. As an independent I have no political affiliations, enabling me to vote whichever way residents want me to - I don't want to be under the thumb of the whip because they didn't vote me in, the residents did.
Birmingham is the youngest city in Europe, yet a lot of young people don't vote here. When I canvas on the streets and chat to young people I ask them to at least register. I receive a continuous stream of Facebook messages telling me they only registered so they could vote for me. The youth of Birmingham needs to be reflected in our Council Chamber - without this it doesn't truly represent the city. I want to change this.
What are you looking to achieve if you win?
Birmingham is a tale of two cities. In one, 37% of children live in poverty. In the other, the the rich drive Mercedes around our pothole-ridden streets. I cannot live in a city like this. In 2015 it shouldn't be happening. That's why if I am elected I will give my Councillor Allowance of £16,267 to the community of Moseley and King Heath to tackle deprivation, setting up youth clubs and other services.
I often hear from people that they never see their politicians. I would be different - if elected, I would leaflet every house in my ward four times a year with updates of I've done and what I plan to do asking for the public's opinions and involvement. I'll walk up and down every street inspecting them for maintenance issues and will hold clean ups once a month. I will make promises that will change the definition of a politician.
What will you do next if you don't win?
Hopefully I'll win, but if not there are other options. Mayor Of Brum sounds decent...
Who are your supporters?
I have a lot of support in Moseley and Kings Heath, ordinary folk. Many have found truth in what I say and are supporting me because they feel I truly represent them. I receive around 80 emails a day from city residents, dealing with issues as diverse as homelessness to stolen wheelie bins. Donating my councillor allowance proves that I want to tackle deprivation. Thankfully all I have achieved with my business means am self-sufficient and don't need the extra money.
Is there are a particular area of politics that you're passionate about?
An issue very close to my heart is diversity. Birmingham thrives on diversity while racism divides us. I do a lot to promote a diverse Birmingham and tackle racism when I see it.