Award-winning author Sarah Waters is as famous for her novels' lesbian protagonists as she is for her rich historical settings.
It follows the friendship of Frances Wray, an unmarried woman who lives with her widowed mother, and Lillian Barber, who moves into the Wray residence as a lodger with her husband.
The companionship soon develops into a passionate union between the women, an issue not much explored in literature set in the inter-war years.
As a lesbian herself, Waters has said that writing about lesbian passions and issues are both important to her and "completely incidental".
She doesn't mind being labelled a "lesbian writer", in fact she often invokes the term herself.
"It makes sense for me to use it as a description," she tells HuffPost UK Lifestyle. "Usually in my books there's a strong lesbian element and actually that's very important to me."
Waters says she had many lesbian fans enjoying her work long before she became a mainstream writer, but because her books now have such a wide readership, she is keen to hold on to the lesbian label.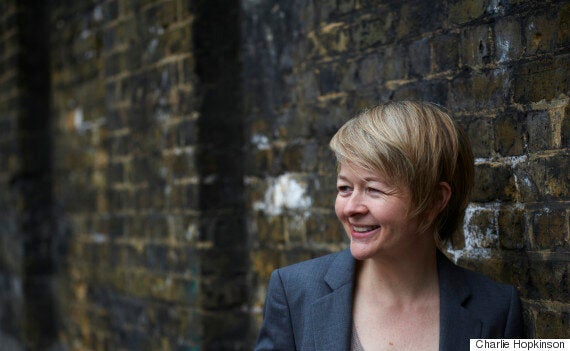 It's her interest in the history of sexuality, that inspires Waters to set her books in the past. Although she doesn't rule out the idea of one day setting a novel in the present, she says it probably wouldn't be a gay story.
"I live a lesbian life in the modern world – why would I want to write about it when I live it? It's the bits I don't know about that I want to explore," she says.
Despite embracing the lesbian writer label, Waters is bemused by what remains a somewhat prudish attitude to the sex scenes in her novels.
"I think that's something about being a woman writer," she says. "People still think it's noticeable if a woman writes about sex."
She believes it is symptomatic of the different ways society treats men and women: "I would like there to be a bit more freedom for women in terms of sexual expression and sexual agency – I don't think it does anybody any good if it's still seen as remarkable for a woman to be writing about sex."
It's no surprise then that Waters thinks that there is still very much a need for all-female literary prize, such as The Bailey's Prize For Fiction.
Waters has been nominated for the all-women's book prize, previously known as the Orange Prize, twice before - in 2002 for 'Fingersmith', and in 2006 for 'The Night Watch' – and it's a prize that she feels real affection for.
"I think women are very happy to be on that shortlist individually, but I think they're also genuinely happy for the other women writers, because there is this extra sort of political element to it," she says.
To anyone who might suggest that there's no longer a need for an all-woman's book prize, Waters thinks otherwise. The problem isn't that women aren't writing novels, she says: "It's a flexible job that women can do very easily, even if they have children to look after. But the statistics show that when it comes to the reviewing of women's novels and the reading of women's novels, things change."
She names Angela Carter, Iris Murdoch, Alice Walker, Rebecca West and Elizabeth Taylor as just a few of the women writers that have had an impact on her life, adding that they particularly resonated with her as a young woman – a time when she believes novels can seem to speak to you incredibly personally.
"Theses authors seemed to capture something about the pleasures and the pressures involved in being female, which we don't tend to see in the mainstream, because so many mainstream images of femininity are problematic in some way," she explains.
"The images of femininity we so often see are the very opposite of celebrating women, or put new pressures on women," she adds. "So I think fiction can capture something more authentic about femininity that we just don't find elsewhere, except in our own lives."
Her career as a novelist has been particularly charmed, she feels. She didn't want to be a writer as a child, only deciding to try it out when she did a PhD in her twenties.
"It was a brilliant kind of training," she says. "It felt like I'd had a springboard."
'Tipping The Velvet', later adapted for TV and soon to be adapted for stage by Laura Wade, was Waters' very first go at writing a novel. It's the only one of her novels she's re-read, something she describes as an odd experience: "There were things about it I could admire: it's got a real exuberance and energy. And of course there were things where I just winced and wished I could tidy it up."
But the writing of her first novel is an experience she describes as entirely positive – by the time she'd finished, she was "hooked" on writing fiction and started her next book, 'Affinity', before she'd even found an agent or a publisher.
It may come as no surprise, therefore, that she is fiercely passionate about inspiring would-be writers.
And her advice to young women who want to write? Just do it. While she'd tell anyone – male or female – that it's important to carve out the time and properly commit to writing, she thinks one thing women need to hear more is to believe in themselves.
"I think it's very easy for women to be self-deprecating or modest," she says. "I know I've been like that myself, and it's really not helpful. It's not necessary. If you want to write a book, just do it. Take it seriously and take yourself seriously."
The winner of the Baileys Women's Prize For Fiction will be announced on Wednesday 3 June. HuffPost UK Lifestyle is proud to be streaming the awards live on the site. Watch the live stream here from 6.45pm.
Related