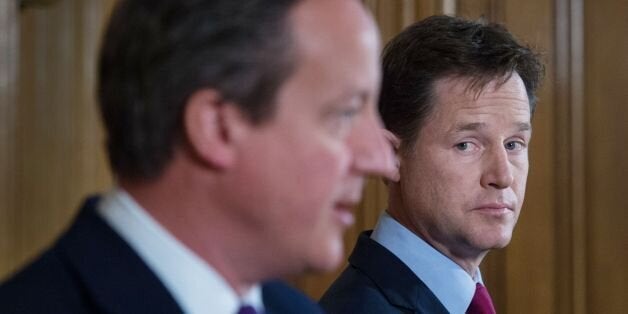 Nick Clegg has accused David Cameron of telling a "big fat fib" when he says he can win an overall majority at the election on Thursday.
The deputy prime minister made the comment amid a row over a tweet sent by Lib Dem peer Lord Scriven on Monday morning. Scriven claimed Cameron had privately admitted to Clegg that the Conservatives could not win outright on May 7.
The Conservatives have flatly denied the claim. "This is 100%, definitely not true. The prime minister has repeatedly made clear we only need to win 23 seats to get a majority and he is totally focused on winning that majority," a Tory source said.
Speaking to Sky News, Clegg was not comment on what he had been told by the prime minister, but said: "I just don't think it's for me to reveal private conversations, but I've never met a senior Conservative who's told me privately they think they're going to win this election outright.
"They're now basically communicating a big, fat fib that they are going to win a majority with 23 seats. They're not. They need 323 seats. They're not going to get 323 seats. Everybody knows that."
Appearing on BBC News's Victoria Derbyshire programme, Lord Scriven said Clegg had told him of Cameron's view shortly before Parliament was dissolved in March for the General Election.
He said he had decided to speak out after reading a report in the Daily Telegraph that the Tories were targeting a series of Lib Dem-held marginals which they believed held the key to a Conservative victory.
The paper quoted Cameron warning that a vote for the Lib Dems could let in a Labour government.
"If David Cameron is going to lie when he knows in his heart of hearts his private polls are showing that the British people are likely to give no party an overall majority, then so be it," Lord Scriven said.
"I don't take back anything I said in the tweet. People are not stupid. The opinion polls show what's happening, the private opinion polls show what is happening. When I read what's on the front page of the Daily Telegraph, that David Cameron is not telling the truth to try to scare people to vote, then I think that his private feelings do need to be made clear."
Asked about Lord Scriven's claims during a campaign visit to the marginal Hastings and Rye constituency, Cameron said: "I think Nick Clegg is increasingly desperate because he knows the truth, which is there is an inescapable choice."