Gordon Brown today made an emotional last-ditch appeal for people to vote Labour in the General Election, saying his party could do more for people in minutes than would be achieved if Scotland elected 59 SNP MPs.
The former prime minister delivered a passionate speech in Glasgow, which is expected to be his last major contribution to the campaign.
Brown, who has now retired from the House of Commons, said he was addressing the audience "not as a candidate but a foot soldier".
While his party is still trailing well behind Nicola Sturgeon's SNP in the polls, Brown urged Yes voters from last year's independence referendum to "come to Labour" if they want to see change delivered.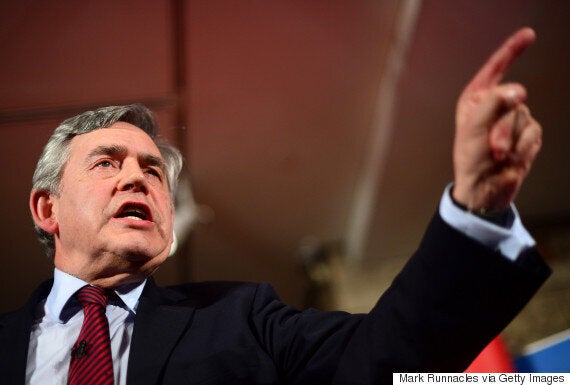 Gordon Brown delivered yet another barnstorming speech today
He warned Scots that if they back the SNP at the ballot box they "make it more likely that the Tories are the largest party on Thursday and David Cameron is there on Friday".
Brown said: "You could have 59 SNP MPs but you would probably have a Conservative government.
"We can achieve more in a few short minutes with Labour ministers and a Labour cabinet than we could ever achieve in five long years under the Conservatives, with all the SNP MPs in opposition."
Sturgeon has repeatedly offered to work with Ed Miliband to "lock the Tories out" of power at Westminster, but Labour has insisted it will not form an alliance with the nationalists.
Brown said today: "The reason why we can't do a deal with SNP is not expediency, it's on principle. We can not have a deal, or a compromise, or a tie-in with a party that doesn't share the principles of solidarity."
With Thursday's crucial vote most likely to result in a hung parliament, and with speculation mounting about what deals could be done between the parties, he said this had been "one of the most difficult elections and one of the most complex elections and one of the most confusing elections people have had".
But he told voters: "If you want to vote for social justice there is no other party, the Conservative Party don't support social justice do they?
"Every vote counts and it has to be a Labour vote. I find it perverse logic for the SNP to say you can have a Labour government without voting for Labour candidates."
Brown said that Labour had not written off any of the 41 Scottish seats it won in 2010.
He told the audience: "We have a brilliant set of candidates in Scotland, you cannot do anything other than vote Labour because we want to win as many seats as possible, we have written off none."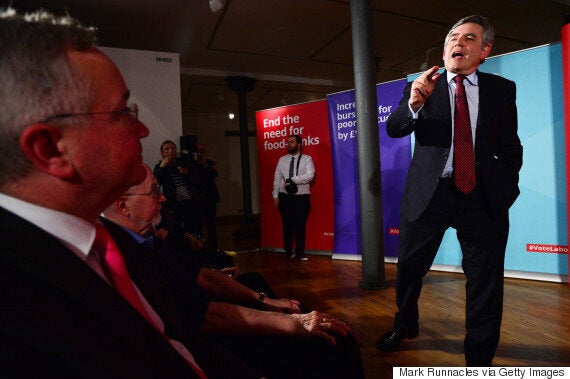 Brown urged voters to choose Labour rather than the SNP
He reached out to those who had voted for independence in September, urging them to back his party.
Brown appealed: "I say to people in Scotland today, if you voted Yes in the referendum and you want change, you want social justice, then Labour is your party.
"Come to Labour and join us in Labour in Scotland's fight for social justice."
The former Labour leader conceded: "This has been a difficult fight. We've been fighting against what you might call the odds, but let us remember one thing when we talk about fighting against the odds: the Labour Party was born against the odds.
"The Labour Party created the health service against the odds, the Labour Party created the welfare state against the odds, the Labour Party created the minimum wage against the odds."
He criticised the Tories, who he said had been stoking up English nationalism with their warnings about the damaging impact of the SNP if it could influence a Labour government.
By doing this, Brown said they had "put party before country", adding: "They have whipped up English nationalism against Scottish nationalism, they are putting the Union on life support."
He also hit out at Scottish nationalists, arguing while people in Scotland want change, they do not favour independence.
Brown said: "I say this to the SNP: don't confuse our patriotism with your nationalism. Don't assume when you talk about change that people want the constitutional change the SNP argues for. I know what people want most of all is social change and economic change."
With less than 48 hours to go until the polls open, Brown said he had met "hundreds of people who are undecided" about who to give their vote to.
He said these voters had been left "confused by the campaign rhetoric of the Scottish National Party claiming a vote for the SNP will somehow bring in a Labour government", and added: "We have to explain to them a vote for the SNP can only help the Conservative Party.
"I find when I explain that to them, and others explain that to them, they are prepared to come back to Labour."
He stressed: "We are fighting for every vote, right up to the last minute."
Stewart Hosie, the SNP deputy leader, said: "This is nonsense from Gordon Brown. A vote for the SNP on Thursday is a vote to lock the Tories out of 10 Downing Street - as Nicola Sturgeon has made clear we will work with others to deliver progressive policies across the UK. The problem for Mr Brown is that his leader, Ed Miliband, indicated that he would prefer to let the Tories back into government than work with the SNP to keep them out.
"If Scotland unites on Thursday to deliver a big team of SNP MPs, Scotland will be stronger at Westminster and we can and will stop five more years of austerity cuts."