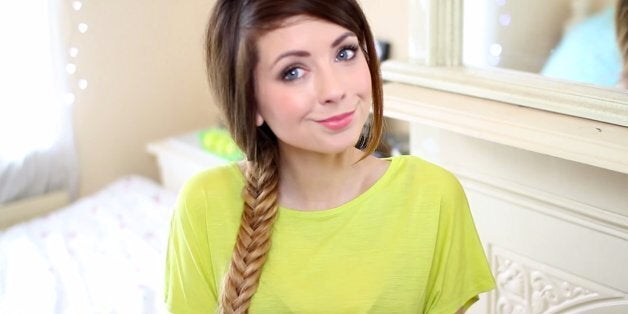 Zoella - aka Zoe Sugg- is a vlogging sensation. With over seven million YouTube subscribers, a bestselling book, plenty of awards and a waxwork coming soon to Madame Tussauds, she's set for world domination.
Her hair and beauty tutorials have taught us a thing or two (or three, or four)- so here's a round up of her most popular how-tos:
How to: quick and easy hairstyles
Get walked through some of Zoella's prettiest and easiest hairstyles: the fishtail plait (especially good on dip dyed hair), a messy ponytail, the half up/down do and how to create waves and curls.
How to: Super easy Dutch side braid
Zoella's hair is very long, but this style also works on short hair and isn't as complicated as it looks.
Get ready with me - festival edition
Your hair and skin takes a battering over the course of a festival, but Zoella's found an easy look that will last the whole weekend, whether you're swimming in the mud of Glasto or sunning yourself at Benicassim.
Spring/Summer hair and makeup
In this tutorial, which has been viewed more than 2,500,000, Zoella takes you through her summer beauty routine from concealer through shimmery eyeshadow to the tonged beachy wave hairstyle she was taught by a hair stylist on a photo shoot.
In this video, Zoella gives us tips on how to keep ombre hair (also known as dip dyed) in a healthy condition. Ombre is a great look for the summer without the maintenance of a full dye job, but as she says, you still have to look after your hair to keep it sleek and shiny.
Halo braids look like they require a lot of effort, but trust us - and Zoella - they don't. Yay!
If you find yourself at a loss in the morning as to what to do with your hair and makeup, never fear - Zoella has perfected a clean, minimal look that will get you through the day.
Isn't looking effortless actually a lot of effort? Here, you'll master the art of the messy bun.
Skincare chat & natural makeup look
Zoella runs through her daily routine and skincare favourites then shares her simple guide to 'no makeup' makeup. Perfect for those prone to breakouts.

Matte Lipsticks