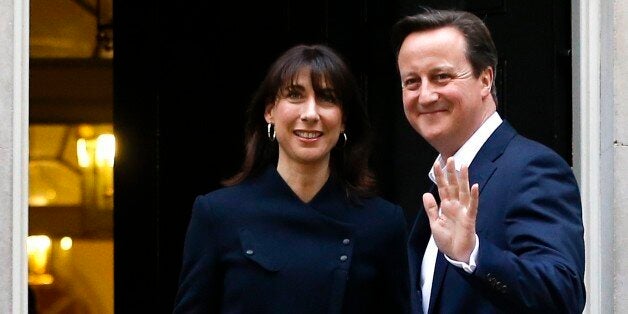 "The Scottish lion has roared this morning," Alex Salmond declared in the early hours of Friday morning as he became one of the 56 SNP MPs on their way to Westminster.
In England, David Cameron stunned pollsters and pundits as he combined a brutal and targeted destruction of the Lib Dems with an impregnable defence of Conservative territory.
Ed Miliband has gone. As has Nick Clegg. Labour and the Lib Dems will now turn inwards, consumed by post-mortems and leadership elections.
Picking over the bones of Labour's defeat, Lord Mandelson, one of the architects of New Labour's now distant 1997 landslide, lamented his party had been "squeezed by two nationalisms". Tom Brake, one of the few remaining Lib Dem MPs, warned that "nationalism is taking hold" in England and Scotland.
Cameron, speaking outside Downing Street this afternoon, insisted he wanted the Conservatives to govern as a part of "One Nation, one United Kingdom". The prime minister promised the devolved government in Edinburgh "more powerful" on his watch.
But Salmond has suggested that a Conservative government, which has just one MP in Scotland, would not be legitimate. And English Tories, now in a majority, are unlikely to be in the mood to offer many concessions to the Scottish nationalists. The Scottish and English in parliament may well simply end up talking past each other. A constitutional crisis looms. As does another independence referendum further down the line.
Boris Johnson, who is returning to parliament as an MP, moved fast to recognise the United Kingdom will likely need to change fast, if it is to survive. "There has to be some kind of federal offer. Everybody needs to take a deep breath and think about how we want the UK to progress," he said. "I think even most people in the SNP, probably in their heart of hearts, most people who voted SNP tonight, do not want to throw away absolutely everything."
Speaking in Doncaster, where he won reelection to the Commons as he watched his party tumble to a embarrassing national defeat, Miliband said Labour had ''seen a surge of nationalism overwhelm our party." And Jim Murphy, the party's Scottish Labour leader, who lost his seat to the SNP, told party supporters: "We were hit by a Scottish nationalism stirred up by the SNP, and an English nationalism stirred up by David Cameron."
Clegg, announcing his resignation as Lib Dem leader, warned that the "continued existence of UK itself is now in grave jeopardy". The former deputy prime minister said Britain was now at a "very perilously point in our history".
Nigel Farage, who had hoped May 7 2015 would deliver him to Westminster on a Ukip earthquake, failed to win election in Thanet South. In the end, he acknowledged in his concession speech, there was an earthquake but "it happened north of the border, it happened in Scotland".
Speaking in Scotland, Sturgeon said the "tectonic plates in Scottish politics have shifted" with the result. Whatever the government is that emerges at Westminster, they cannot ignore what has happened in Scotland," she said.
Top of Cameron's agenda will be his promised EU referendum. Due in 2017, the prime minister is widely expected to leave Downing Street following the result - whatever it is. The renegotiations will occupy a lot of the prime minister's time, as Tory backbenchers agitate for red lines and concessions from Brussels.
A vote to leave, aside from taking Britain out of Europe, will have the added bonus of unleashing, once again, SNP plans to break-up the UK.