A service to mark the 70th anniversary of the end of the Second World War also served as a sombre final farewell of sorts for Ed Miliband and Nick Clegg today, as the politicians lined up for the last time alongside David Cameron.
The Victory in Europe remembrance service at the Cenotaph, in Whitehall, marked the last official duty of the deputy prime minister and leader of the opposition.
Just hours earlier, Clegg, and Miliband, resigned after the Tories won an overall majority in the House of Commons.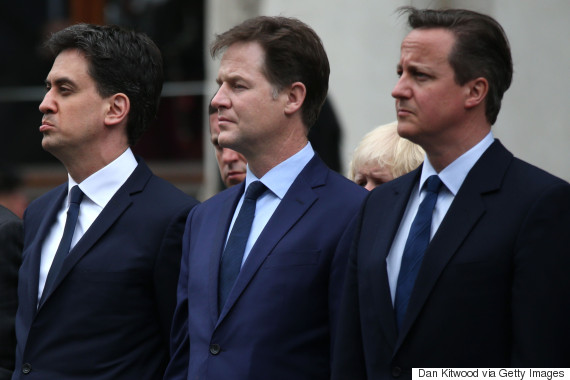 Ed Miliband and Nick Clegg, stand with Prime Minister David Cameron at a service in London marking the 70th anniversary of the end of the Second World War
Miliband quit after Labour dropped 26 seats on its 2010 tally - having won just under 31% of the vote, and Mr Clegg bowed out after his party was obliterated. While he won his Sheffield Hallam seat, Mr Clegg's party dropped from 57 MPs to just eight.
The ceremony in London at 3pm was to be followed by a reception for 2,000 veterans in St James's Park, hosted by the Royal British Legion and the government, but activities to mark the anniversary will take place across Britain all weekend.
Story continues below
Cathedrals across the country have been invited to ring their bells tomorrow, before a key event takes place on Horse Guards Parade in Whitehall.
The 1940s themed concert will feature performances by Katherine Jenkins, Pixie Lott and the Diversity Dance troupe. Street parties were also set to take place.
On Sunday a service of thanksgiving will be held at Westminster Abbey. Members of the Royal Family will attend, along with veterans and their families and representatives of the nations and countries that fought alongside Britain.
A parade of military personnel and soldiers is then scheduled to take place from the Abbey to the balcony of HM Treasury where Churchill made his historic speech.
A flypast of current and historic aircraft from the Royal Air Force was to take place during the afternoon.
SEE ALSO

Ed Miliband Resigns As Labour Leader After Shock General Election Night Results

Jim Murphy And Douglas Alexander Lose Seats To Extraordinary SNP Election Night Surge

Election 2015 Result: 'Squeezed By Two Nationalisms,' Is This The End Of The United Kingdom?