Resurrected Ukip leader, Nigel Farage, now has his sights set on the House of Commons just days after announcing he would quit and take a summer holiday.
The "unresigned" Ukipper has announced plans to stand for parliament again in the event of a by-election in a Labour seat.
The defeat, along with that of Tory defector Mark Reckless in Rochester and Strood, left Ukip with just one representative in the House of Commons, down from two before the election.
Yesterday, it emerged that Ukip's National Executive Committee (NEC) would not be accepting Mr Farage's resignation.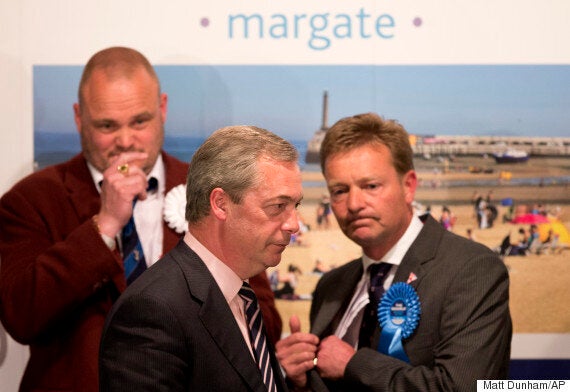 Farage loses Thanet South: the Ukip leader, centre, walks on stage after losing to Conservative Craig Mackinlay, right, watched by candidate Al Murray
But Mr Farage denies being in cahoots with his party's administration, insisting the decision to step down was made with "absolute sincerity" and that he was "as surprised as anyone" following the NEC's announcement.
He told BBC Radio 5 Live: "Ukip significantly helped the Conservatives to win this election by tearing vast chunks of the Labour vote in the East Midlands, West Midlands and the north.
"I have been telling all the Westminster commentators for years that Ukip's greatest potential was among the Labour vote."
However, Mr Farage's reinstatement has not gone down well with all party members.
When asked by The Huffington Post yesterday whether Mr Farage was the best person to lead, Douglas Carswell - the party's only MP - declined to back his leader, fueling speculation he could quit Ukip.
In an email reportedly sent from Mr Carswell to the party's leadership, seen by Guido Fawkes, he said the group did not need £650,000 of taxpayers' money.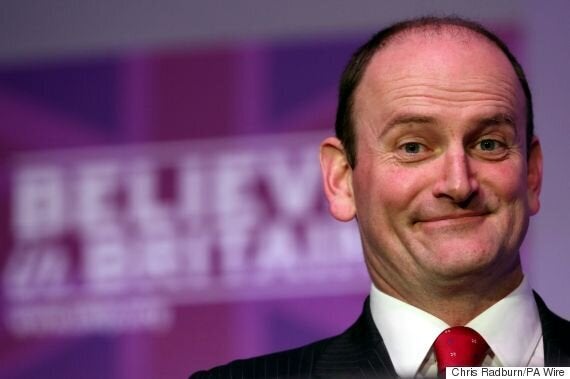 Douglas Carswell speaking at the Ukip Spring Conference at the Winter Gardens Theatre in Margate, Kent
Mr Farage's resignation was rejected "unanimously" by members of the NEC.
When asked if he was waiting for the next Labour seat to become available so he could jump on the carousel again, Mr Farage replied: "I would look forward to a by-election in a Labour seat very much indeed."
Mr Farage, who described going into a darkened room for a few minutes before agreeing to return as leader, dismissed the claim the episode proved Ukip was a one-man band or exposed a lack of talent within the party.
Instead it showed he was a leader with "overwhelming support", he added.
He went on: "Nobody in Ukip feels like we have been beaten. People in Ukip are angry, we want change. Never before in the history of the British Parliament have so many people been so under represented.
"I will now increasingly campaign for us to have a Parliament and electoral system that stops the negativity and actually gives us MPs that represent the way people vote."
Asked which Labour leadership contender he most feared, Mr Farage said he would have been most fearful of Dan Jarvis, who has ruled himself out.
He dismissed the others as "New Labour metropolitan elite".
On the question of an EU referendum, he said Ukip's job was to make sure it was free and fair.
He added: "I don't trust Mr Cameron to deliver that and we must make sure that is what we get.
"I want to be friendly with Europe, I want to trade with Europe, I do not want to be governed by Mr Juncker and his mates in Brussels."
Related