A Kim Kardashian super-fan, who spent more than £100,000 on plastic surgery to look like his idol, has revealed that his surgery addiction has backfired.
Jordan James Parke was 19 when he had his first cosmetic procedure in a bid to resemble Kim K.
Now, his love of lip fillers and botox have landed him in trouble as the Birmingham-based makeup artist can no longer move his face properly.
And to add insult to injury, his 4mm lip fillers are leaking.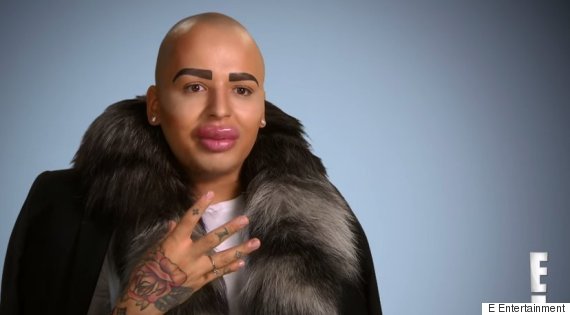 "I kind of got addicted to lip fillers," he reveals on E! series, 'Botched'.
The 23-year-old has had more than 50 lip-filling procedures and regular Botox injections, which have been funded by his own business and through loans from his family.
"Sometimes filler can leak out of the sides," says Parke. "They need fixing because I'm worried that if they keep leaking I'm going to end up with small lips again."
"That wouldn't be me," he adds. "I just think my lips really change me as a person. I'd be so normal and boring without them."
SEE ALSO:

Kim Kardashian Superfan Jordan James Parke Spent £100,000 To Look Like His Idol

This Blond, Blue-Eyed Brazilian Man Had 10 Surgeries On His Eyes To Look Asian (PICTURE)

Susan Sykes Makes A Living From Crushing Bricks And Watermelons With Her Breasts
Parke has more than 22,000 followers on Instagram where he can be found draped in furs, partying and touting designer bags – just like Kim.
The Kardashian fan previously told The Sun that he "loves everything about Kim" and that "she's the most gorgeous woman ever".
"I would not like to walk into a room and people not notice me. My lips walk into the room and people are like 'Oh my God!'," he says. "I hope the doctors can help me stop them from leaking."
[H/T Metro]