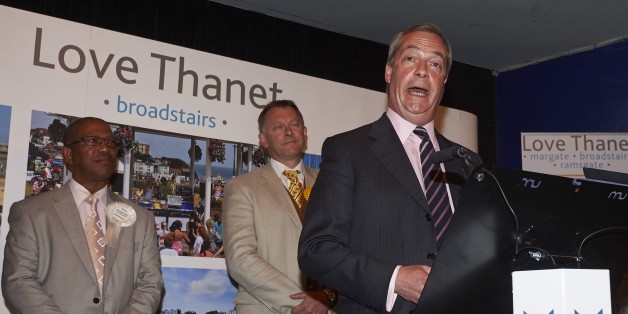 NIKLAS HALLE'N via Getty Images
Police are looking into an allegation of electoral fraud in Thanet South, the seat which Ukip's Nigel Farage failed to win on Thursday night.
Mr Farage lost out in the General Election to the Conservatives' Craig Mackinlay who racked up 18,838 votes to Mr Farage's 16,026.
Claims of suspicious behaviour surfaced following a lengthy delay in declaring the seat's results at Margate's Winter Gardens.
SOUTH THANET - DECLARATION TIMES

2015: about 11:00am (8hrs LATE)

2010: 3:17am

2005: 4:44am

2001: 3:33am

1997: 3:12am

May 9, 2015
A Kent Police spokesman said: "Kent Police has received a report of electoral fraud. Inquiries are ongoing."
But angry Ukippers used #ThanetRigged when Ukip claimed victory in the local council election, with the party taking control of the authority.
Some users said that Ukip's local council triumph so soon after Mr Farage's defeat pointed to suspicious behaviour in the parliamentary contest.
Election boxes missing for 6.5 hours? More voted UKIP for Coucil than in National elections? They didn't want Nigel in HOC. #ThanetRigged

— Donee liberum (@petertonline) May 9, 2015
#UKIP win council elections in Thanet yet @Nigel_Farage lost we all no what happened #ThanetRigged

— liam ukip noble (@liam345) May 9, 2015
Do theyexpect us to believe that so many people vote for UKIP but won't vote for the party leader in General Election? #ThanetRigged

— M smith (@Smithy1974Uk) May 9, 2015
Odd that UKIP win Thanet council elections but Farage fails to win the seat. Ballot boxes were unaccounted for for six hours #ThanetRigged

— Nathan Kett (@nathan_GAFC) May 9, 2015
Something smells rotten in #SouthThanet Nigel Farage robbed #ThanetRigged #UKIP

— Major League Infidel (@brijoyce) May 9, 2015
Postal votes and those missing ballot boxes which magically turned up after 6.5 hours are the key. #ThanetRigged

— UKIPHavant (@UKIPHavant) May 9, 2015
#ThanetRigged trending, for good reason. It was

— mkpdavies (@mkpdavies) May 9, 2015
Authorities were quick to pour cold water on the conspiracy theorists, saying that it was a matter of boundaries.
No conspiracy, no stolen/lost votes, parliamentary boundary larger than district - covers Canterbury and Dover areas too #thanetelection

— Communications Team (@ThanetCouncil) May 12, 2015
They also began to target journalist Isabel Hardman, who said she had word Farage had lost, but said so before the count had even started.
#UKIP take control of #Thanet Council.

If so then how did @Nigel_Farage lose?

#ThanetRigged pic.twitter.com/Z3eJuayUWN

— State Control™ (@State_Control) May 9, 2015
To which she responded jovially:
I'm getting a lot of tweets from Ukippers who think that rather than the Thanet electorate not wanting Farage as MP, the result was rigged.

— Isabel Hardman (@IsabelHardman) May 9, 2015
I note that unlike these tweeters, Farage has accepted the verdict of voters, rather than trying to develop an elaborate conspiracy theory

— Isabel Hardman (@IsabelHardman) May 9, 2015
Kippers who are upset about their party not doing better could usefully direct energy into getting annoyed with voting system.

— Isabel Hardman (@IsabelHardman) May 9, 2015
Still, the #Thanetrigged hashtag is quite fun to read.

— Isabel Hardman (@IsabelHardman) May 9, 2015
Also not a lot of love for pencils this afternoon, it seems.

— Isabel Hardman (@IsabelHardman) May 9, 2015
The truth about #Thanetrigged of course is someone called LibLabCon hid in a room with an eraser, rubbing out all crosses on ballot papers

— Isabel Hardman (@IsabelHardman) May 9, 2015
But for those who wonder how my source said Farage had lost before the count... interview http://t.co/B3m6YVzzSS pic.twitter.com/5IFtTYayQH

— Isabel Hardman (@IsabelHardman) May 9, 2015
No-one will find the papers in here... #ThanetRigged pic.twitter.com/qyK8UtnI66

— Isabel Hardman (@IsabelHardman) May 9, 2015
The conspiracies still continued today however:
Leftie liberals laughed at the #ThanetRigged trend. Well now police are officially investigating it. Are they going to laugh at the police?

— Julian Rodrigues (@JBRodrigues96) May 13, 2015
Skullduggery to keep our man out? The plot thickens.... #thanetrigged @IsabelHardman https://t.co/4OCF256FCb

— Alan (@1ofthe8015mcfc) May 13, 2015
What's the betting #KentPolice will declare nothing to see here after a quick call from Dave or one of his cronies. #ThanetRigged

— Andy_Wirral (@Andy_Wirral) May 13, 2015
All the lefties laughed when #ThanetRigged trended now it appears it was completely correct

— David Jones (@DavidJo52951945) May 13, 2015
OK,so u think unlikely #ThanetRigged ?

Maybe should Google "history UK election fraud"

Was it rigged?Don't know

Could it have been?Hell yes!

— Chris Fudge (@chrisfudge302) May 12, 2015
The rest of Twitter has also helpfully pointed out their own theories to support a Thanet South conspiracy:
The shadows are wrong, what's going on with the guy on the right? Look at Farage's face. I'd say YES #ThanetRigged pic.twitter.com/HbO9ZKCDig

— Lisa (@biscuitahoy) May 9, 2015
MI6 put flourides in the water which altered voting intentions #ThanetRigged

— Rupert Myers (@RupertMyers) May 9, 2015
LATEST SOURCES SUGGEST 63% THANET PENCILS DIDN'T EVEN HAVE LEAD IN THEM!!!! #ThanetRigged

— Hugo Rifkind (@hugorifkind) May 9, 2015
Anyone else see the polling cards? #ThanetRigged pic.twitter.com/RrDe29OhzA

— Thomas Simpson (@Simmy41) May 9, 2015
Ballot counter man: "We have top men working on it right now". Indiana Jones: "Who?". BCM: "Top. Men". #ThanetRigged

— Michael Legge (@michaellegge) May 9, 2015
@tim_brannigan Right the way to THE TOP OF THE BOOK DEPOSITORY??? #ThanetRigged pic.twitter.com/xktBDTZf1T

— Ms Shepherd (@ms_shepherd) May 9, 2015
I know exactly where the real Thanet Ballot boxes are! #ThanetRigged pic.twitter.com/RzV06MOGGS

— Danny Harvey (@dannyh72) May 9, 2015
#ThanetRigged I think @almurray knows more than he's saying.... pic.twitter.com/TTN6zelKKd

— Ken Barlow (@I_am_KenBarlow) May 9, 2015
CONCLUSIVE EVIDENCE THAT SOUTH THANET WAS RIGGED. #ThanetRigged pic.twitter.com/KQYkDUvZMM

— Red Angel Dragnet (@Mooresoleum) May 9, 2015
Off to do Sky News. May take inspiration from #ThanetRigged and claim we won 65 seats but MI5 rubbed out the votes.

— Sean Kemp (@Sean_Kemp) May 9, 2015
The real reason for the local council/Westminster split, however, may be a lot more simple. The constituency turnout was 70% for the general election, but historically only sat at 40% in the locals.
So what's really happened, it seems, is that Ukip voters were the only ones who actually bothered to turn in their ballots in the local elections while Tories and Labourites ignored the councils and just voted in the general election, letting the Conservative candidate cling to power.
Mr Farage quit as Ukip leader after he failed to win, but his resignation was rejected by the party's national executive committee and he remains as leader.
READ MORE

#ThanetRigged: Ukip Voters Think There Was A Conspiracy To Keep Nigel Farage Out Of Parliament