Today marks one year since inspirational teen Stephen Sutton died of cancer.
More than £1,000,000 of the £4,500,000 total was raised after his death on 14 May 2014.
Stephen's story touched the hearts of many across the country, hitting headlines as he ticked items of his bucket list and shared the news on his Facebook page to raise awareness. From getting a tattoo to skydiving, each event was accompanied by a link to his JustGiving page to encourage his hordes of Facebook followers to donate.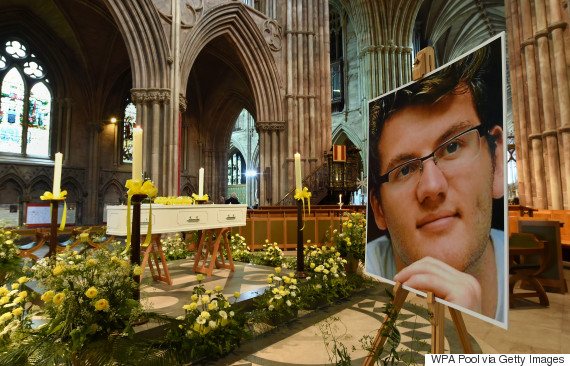 Stephen Sutton's coffin lies alongside his picture in Lichfield Cathedral during a two day vigil in his memory on May 30, 2014
According to the BBC, the £4,500,000 raised so far has gone towards:
Cancer units in hospitals in Edinburgh, Glasgow, London, Liverpool, Oxford, Nottingham and Sheffield
Units in the Southern General in Glasgow and Alder Hey in the Park in Liverpool to open soon
Scholarships in young adult cancer care at Coventry University to begin in September
Digital information about cancer for young patients has been made available
Peer-to-peer support events
"Today marks the end of one and the start of a new chapter of Stephen's journey. He may no longer be with us in person... but his influence will remain," Stephen's mother Jane said.
"He demonstrated how incredibly powerful small positive acts can be when lots of people get involved.
"Of course I miss Stephen, there's an enormous void which he used to occupy. However, I'm so proud of everything he has achieved.
"When he began his blog he always used to say 'This isn't a sob story, this is Stephen's story' so the last thing he would want us to be is sad.
"That's why today, on the anniversary of his passing this is a time to remember and celebrate his life.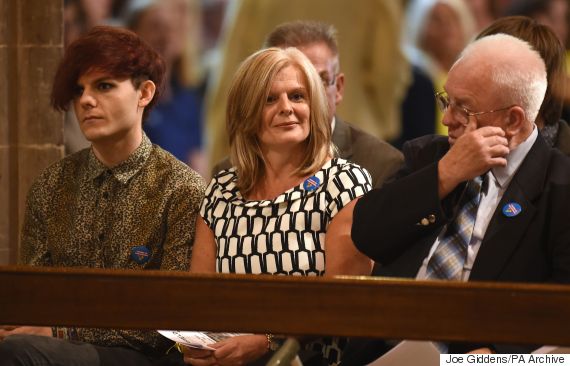 Stephen Sutton's brother Chris, mother Jane and grandfather Tony during a two day vigil at Lichfield Cathedral
"Regrettably every day, seven young people aged between 13 and 24 are diagnosed with cancer in the UK," she added.
"Teenage Cancer Trust is the only UK charity dedicated to improving the quality of life and chances of survival of these young people, relying solely on donations to fund its vital work.
"However, the harsh reality is that Teenage Cancer Trust currently only has the resources to help one in every two young people diagnosed with cancer in the UK.
"Its vision is that by 2020, every young person with cancer in the UK will have access to the charity's expert support from the moment they hear the word cancer.
"To achieve this, Teenage Cancer Trust needs to raise over £80 million in the next five years to support current and new services."
You can donate to the Teenage Cancer Trust in Stephen's memory here.
Ahead of a one year memorial to be held at Lichfield Cathedral, the Very Revd Adrian Dorber said: "Stephen Sutton was a remarkable young man. He captured our imagination by the way he chose to extract something good, joyful and positive from every minute of his life even as it was threatened by terminal illness."
As members of his local town prepare to remember his memory at a string of services, others are paying tribute on Twitter.
Join me and share your #hugforstephen photo and don't forget to text hug to 70660 to give £2 to Fixers #Hugs 😘❤️💋💑 pic.twitter.com/Nx1jOmXUuT

— Stacey Solomon (@StaceySolomon) May 12, 2015
1 year today, rip 💛💛 #StephenSutton

— em-ily (@em_smith01x) May 14, 2015
Love you & miss you always bro! So proud 💛 spent the best years of my life with one incredible friend #StephenSutton

— James (@Jxxmmyy) May 14, 2015
Just taking a moment today to remember #StephenSutton who sadly passed away 12 months ago today. #BTCHEROESpic.twitter.com/NNnuR7dB55

— Balls to Cancer (@Ballstocancer) May 14, 2015
"The best way to help yourself, is to help others"

#StephenSuttonpic.twitter.com/ILJrG8VHn0

— Waves4Hope (@Waves4Hope) May 5, 2015
The Birmingham Mail are paying tribute to Stephen by liveblogging the anniversary of his death.
SEE ALSO: