Dan Jarvis has backed Andy Burnham to be the next Labour leader - a crucial endorsement from the MP who was an early favourite before he ruled himself out.
Jarvis opted not to run for the leadership, citing the effect it would have on his family. It disappointed Labour supporters who felt his military background would give him the credibility and clout to lead the party to victory.
But Jarvis has given his backing to the shadow health secretary, who is increasingly seen as the favourite.
Burnham is standing against shadow home secretary Yvette Cooper, shadow health minister Liz Kendall and shadow secretary of state for international development Mary Creagh. Shadow education secretary Tristram Hunt is expected to run but has not formally declared he will.
Writing in The Daily Mirror, Jarvis said: "We need a unifying leader with the broad appeal to win those people back. That's why I am supporting Andy Burnham and will be doing everything I can to ensure he is elected as leader of the Labour Party.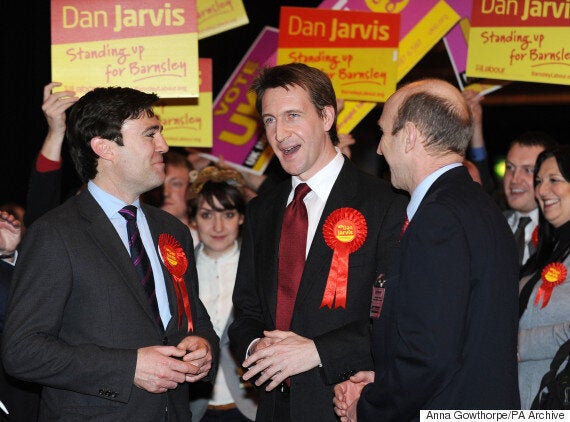 Jarvis (centre) celebrates his 2011 election with Burnham (left) and John Healey
"I've served under many leaders in my life, and I never got to choose them when I served in the Army.
"I'm choosing to support Andy because I'm convinced he has the strength, experience and character needed to bring our party together and restore Labour's connection with the British people.
"He is a decent man with a story that will resonate with people right across our country. His journey from humble roots to serving around the Cabinet table speaks to the sense of ambition Labour should have for every child growing up in Britain today.
"Andy has used the chances he has been given to stand up for those most in need and protect our National Health Service."
He added that David Cameron winning an even greater mandate in the election should make the party "fundamentally question our future direction" and adding that if it didn't, "nothing will".
Jarvis said he witnessed Burnham's "authentic qualities" when they walked around Barnsley Hospital talking to patients and staff and when Burnham pushed for justice for the 96 victims of the Hillsborough stadium disaster.
"Some have characterised Labour's future as a choice between fighting for those struggling in poverty and others who are getting by but hoping for a better life," Jarvis wrote.
"Andy has rejected this false choice. He has made clear that we will only win again by reaching out to every community across our country, rebuilding the broad coalition of support that brought Labour to power in 1997."
He also praised Burnham's stance on the EU referendum, after he pushed for Cameron to hold it next year rather than 2017.
Jarvis added: "Labour will win again when we speak for Britain. We face a long and difficult road back. Electing Andy Burnham as the person to lead us on that journey should be our first step."
Meanwhile, acting leader Harriet Harman and the boss of Britain's biggest union have sought to calm a row over the future of the party and the unions' role in it.
Unite's general secretary Len McCluskey, who has been involved in a bitter fight with outgoing Scottish Labour leader Jim Murphy, said he would not support any move to disaffiliate from Labour and backed the party to "rise like a phoenix" from the ashes of its defeat.
"The Labour Party's problem is not the link with trade unions, or even the relationship with Unite members - far from it. It is the destructive behaviour of one high profile trade unionist," Murphy said.
McCluskey implied his union could withdraw financial support from Labour. But today he said: "We have no plans to disaffiliate from Labour. The party has never been more united."
In response to Murphy's attack on McCluskey, Harman said: "We have had a bitter defeat, we have had a thumping in Scotland. It would be very surprising if some people didn't, from time to time, express an exasperation and frustration and anger."
Popular in the Community