They may have won the electoral war in Scotland, but the SNP lost their first Parliamentary battle today as they failed to oust veteran Labour backbencher Dennis Skinner from his usual place in the House of Commons.
In a day of classic political theatrics, the leftwinger held onto his seat despite the nationalists managing to take over most of Labour's backbench slots, including those behind acting leader Harriet Harman.
In a bid to 'photobomb' Ms Harman on the first day of the new Parliament, 20-year-old SNP MP Mhairi Black and others took over Labour's usual places on the second row of benches.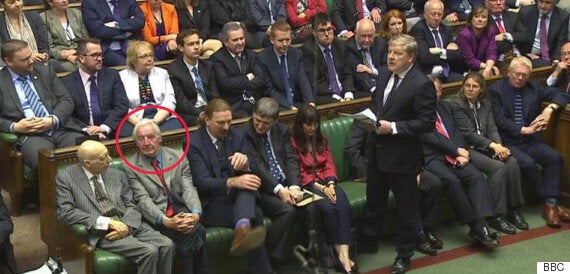 Not to be unseated: Dennis Skinner takes his usual place in the House of Commons after a brief skirmish with the SNP
But Nicola Sturgeon's party had earlier been foiled in their bid to take the symbolic seat usually occupied by 83-year old Skinner.
With 56 new members, the SNP wanted a show their strength by disrupting the normal seating plan of the Commons and many turned up at 8am, four and half hours before formal proceedings.
However, Labour MP Kevan Jones outflanked them by reserving Skinner's place during the daily evacuation for a police sniffer dog search at 1pm.
Mr Jones told The Huffington Post UK that he took up the seat as the SNP left during the search. It is understood he refused to budge despite pleas from the police and Serjeant at Arms to vacate the chamber.
"Pete Wishart [the SNP MP] was furious," he said.
Just before the House began its formal proceedings to re-elect Speaker Bercow, Mr Jones made way for Mr Skinner.

SNP Photobomb: 20-year-old SNP MP Mhairi Black sits directly behind Harriet Harman
The delighted Labour leftwinger, who fought off David Owen and the SDP in the 1980s over a similar assault on his seat, revealed later that he expected the nationalists to come back on other days to pinch his place.
Labour didn't get things all their own way, however, as the Scottish Nationalists made their presence felt in the Commons.
Ms Black, the SNP newcomer who took Labour campaign chief Douglas Alexander's constituency at the election, was in prime position on the bench behind Ms Harman. "Now we have a presence in the Parliament it's making that presence known and it's just seats, isn't it, that's it," she told The Huffington Post UK.
Asked what she made of the ceremonial re-election of the Speaker, which saw speeches from multiple party leaders, she said: "I thought it was quite long considering very little happened. It's not really normality in that chamber. I thought folk were dead rude. Talking over each other."
Mr Bercow was re-elected unopposed as the 157th Speaker of the Commons.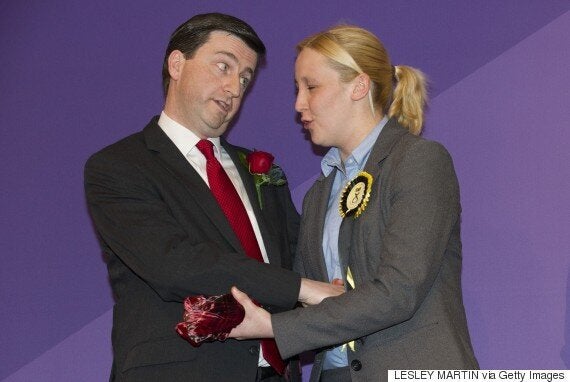 Mhairi Black took Labour campaign chief Douglas Alexander's constituency
Popular in the Community