Kylie Jenner makeup tutorials are going to be an actual thing and we really can't wait.
The 17-year-old took to Twitter in February to make the announcement, but no further info was released.
Luckily, her fans seem to be as impatient as us and Kylie responded to one user confirming the makeup tutorial videos will be with us in about one month.
With every product she mentions selling out, and thousands of fans already trying to re-create her look with their own beauty tutorials on YouTube, we predict this new business venture will be a success.
But what exactly will Kylie's official videos entail? We took a look through her Instagram to steal her beauty secrets:
According to Kim, Kylie favours lip liners over lipsticks and glosses - using them to pencil in her whole pout. Her best-loved shades are MAC's Soar and Spice.
In March, Kylie was announced as an ambassador of Nip + Fab after sharing a number of snaps featuring the beauty brand's skincare ranges.
Kylie also keeps her teenage skin clear with Bioré's deep pore cleansing products.
She loves the looks created by her and her sisters' go-to makeup artist Joyce Bonelli
She's also a fan of 19-year-old makeup prodigy Ariel Tejada - her sky-high false lashes, nude lips and clever contouring have become Kylie's signature look.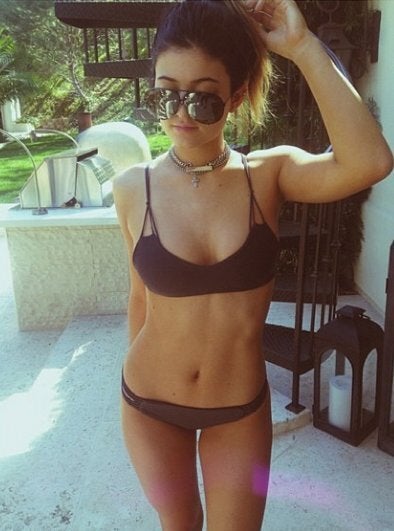 Kylie Jenner's Instagram Photos
Related