"Star Wars: The Force Awakens" is now firmly set in stone as the most anticipated movie of 2015, which is pretty understandable if we're honest.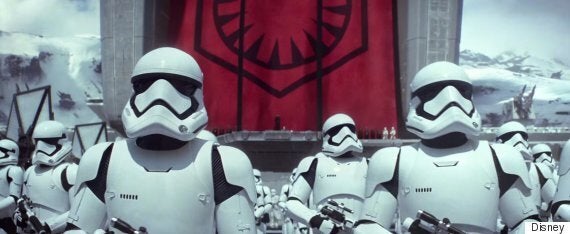 It's the chance to see one of Hollywood's classic villain's appear on the big screen again: The Stormtrooper.
This time however they've been given something of a design overhaul, one that has been inspired by a technology company almost all of us are connected to in some way: Apple.
Speaking to Vanity Fair Magazine, Michael Kaplan lead designer on "Star Wars: The Force Awakens" revealed his inspiration for the new-look design of the black and white henchmen for the Empire.
"With the stormtroopers it was more of a simplification, almost like, "What would Apple do?" J.J. wanted them to look like stormtroopers at a glance but also be different enough to kind of wow people and get them excited about the new design."
"The old stormtroopers uniforms would not be usable. Audiences of today have become so sophisticated that a lot of things you could get away with in the past, you can't anymore. So the new uniforms are much heavier. Also, the action in the film required them to not be "VacuFormed" [like the old uniforms] as those all broke and cracked. These new ones are much more heavy-duty, but they are redesigned, too, they're not the same stormtroopers."
Echoing the iconic ethos of Jony Ive and Apple, Kaplan took the same principles that Ive applies to the iPhone 6 and the Apple Watch, and then applied them to a despotic army of space warriors.
The effect is as you can see, impressive and in truth you can almost tell that the design was in some way influenced by the minimalist efficiency of Apple's design.
Related