Scottish nationalist MPs have been rapped by senior SNP figures for "behaving like children" in the Commons amid fears they are developing a lightweight reputation.
Flouting parliamentary etiquette, the new cohort of 56 nationalists in Westminster - known to themselves as #team56 - have been warned, amongst other things, not to take selfies in the almost 700-year-old chamber for fear of "causing unnecessary fights".
Staff of the party's chief whip, Mike Weir, have reportedly urged members to start behaving like "adults".
"Don't go causing unnecessary fights," one SNP MP told The Telegraph in a message to colleagues.
"We are here to represent our constituents, it is serious business."
The news comes as one of the party's most senior members, Peter Wishart, who has held his Perth and North Perthshire seat since 2001, was allegedly called "the biggest clown in Parliament" by Labour's chief whip in a row over seating in the chamber.
In a separate affair, new SNP parliamentarian Roger Mullin attracted criticism after posing for a picture "pretending to be prime minister", posted by fellow Commons newbie Brendan O'Hara.
But Pete Wishaw, a veteran SNP member in Westminster, has hit back at suggestions some of his colleagues are acting in any way inappropriately.
"This is the most social media savvy group of MPs the Commons has ever known," he told The Guardian.
"They were determined to let their constituents experience their arrival with them, and they've shown a lighter side to the more stuffy traditions and culture of this place.
"They've presented the House in an overwhelmingly positive way."
On Reddit, some people seemed baffled that the SNP were causing such a stir.
"Shock! Horror! Selfie-generations meets 17th century protocol," wrote one user.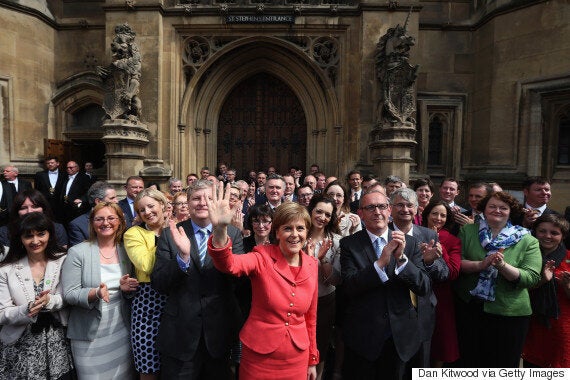 The SNP's 56 new MPs arrive at Westminster
"How dare a political party interact with their electorate through an easily accessible medium and keep them up to date on MP shenanigans? The Telegraph was right. Literally Stalin," posted another.
But while the debate rages on regarding the suitability of Commons selfies, the SNP are certainly not alone in skirting parliamentary convention in much the same way.
Labour, who have had no end of squabbles with the avalanche of arch-rival SNP members - 39 of whom replaced their former colleagues in the Commons, are also, it seems, guilty of the new 'chamber selfie' phenomenon.
Melanie Onn, the MP for Great Grimsby, posted this photo from the Opposition Bench.
The debate will undoubtedly rumble on for five more years...