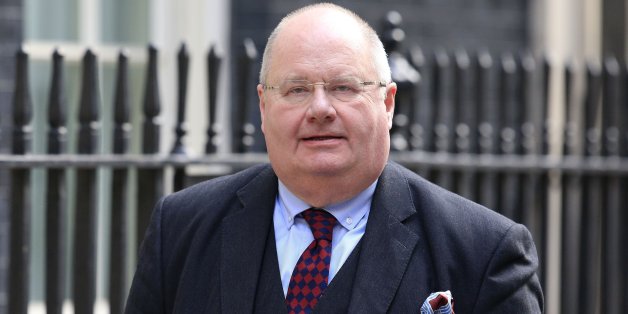 Jonathan Brady/PA Wire
Former Communities Secretary Eric Pickles is to be given a knighthood, Downing Street has announced.
The Conservative will be made a Knight Bachelor in recognition of his public service as an MP, a former Cabinet minister and his time in local government, No 10 said.
Mr Pickles, who was first elected to Parliament in 1992, lost his frontbench role following the general election.
This is not the first time politicians have been handed knighthoods after losing their cabinet positions.
Tories Alan Duncan and Hugh Robertson were given honours after being fired, as well as Lib Dem Nick Harvey.
In response to the big announcement, the soon-to-be-knight tweeted: "Really pleased."
Really pleased https://t.co/GKDcO84Zed

— Sir Eric Pickles (@EricPickles) May 22, 2015
He followed this up by posting a copy of the letter sent to him by David Cameron when he was dumped from the Cabinet.
In it the Prime Minister described Pickles as a "real joy to work with".
He added: "I really could not wish for a better 'chum' in Parliament."
Clearly relishing the honour, Pickles has also already changed his name on Twitter to Sir Eric Pickles.
The MP for Brentwood and Ongar is also a former chairman of the Conservative Party.
Many of Pickles' fellow Conservatives were quick to congratulate him on hearing the news.
Many congratulations to Rt. Hon Sir Eric Pickles MP. A dedicated public servant and great friend.

— John Glen (@JohnGlenMP) May 22, 2015
Delighted to see Downing Street announce @EricPickles has been honoured with a Knighthood. Richly deserved. Many congratulations Sir Eric.

— Anthea McIntyre MEP (@anthea_mcintyre) May 22, 2015
Delighted to learn that my old chum & Best Man is now Sir Eric! @EricPickles pic.twitter.com/Upml68G7fw

— Andrew Griffiths (@agriffithsmp) May 22, 2015
Congratulations to Sir @EricPickles on his appointment as a Knight.

— Tomas Thurogood-Hyde (@tomasth89) May 22, 2015
Congratulations to Sir @EricPickles MP on his very well deserved #knighthood from @BritishMonarchy celebrating service to #ukgovernment.

— Oswald Almeida (@Mid_SussexCF) May 22, 2015
Others were less impressed...
I am appalled that Pickles has been honoured after the mass destruction he led of local councils.

— Richard Kemp CBE (@cllrkemp) May 22, 2015
Eric Pickles is getting a knighthood just for doing his well paid job isn't he?

May 22, 2015
Eric Pickles MP is getting a knighthood? This guy? There's hope for us all. pic.twitter.com/L4BWCOX8pi

— Luke Haughton (@SebbyHaughtonf1) May 22, 2015
Eric Pickles getting a knighthood is like Henry Kissinger getting the Nobel Peace Prize

— Nik of Loved Ones (@WeAreLovedOnes) May 22, 2015
And with the news of Eric Pickles receiving a knighthood, the government has finally become a self-parodic joke

— Tom Hall (@tomthefilmguy) May 22, 2015
Eric pickles to be knighted. Might as well give honours away with cornflakes #devaluedoutmodedandpointlessprocess

— Kevin Dinsdale (@dinsdale_kevin) May 22, 2015