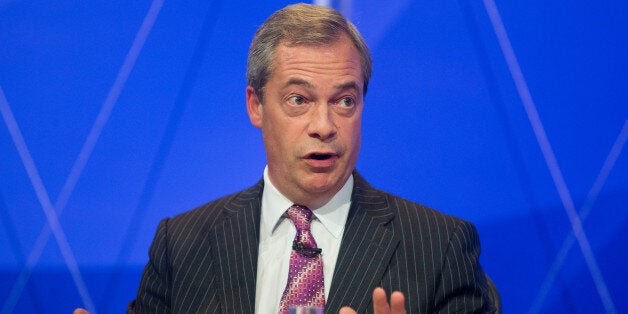 Nigel Farage has dismissed David Cameron's referendum on the European Union as a "fudge" and attacked the wording of the question that will be given to voters.
The Ukip leader's comments come as foreign secretary Philip Hammond warned Britain would vote to leave the EU unless Brussels granted "substantial" concessions.
Today the prime minister will begin a tour of the continent to try and persuade European leaders to allow Britain to renegotiate a looser relationship with the EU for itself.
That new arrangement will then be put to the British people in an in/out referendum before 2017. Today the government confirmed the question on the ballot paper will be simply: "Should the United Kingdom remain a member of the European Union?"
Farage, who is likely to play a leading role in the 'out' campaign, said the wording showed a pro-EU bias. "It is a simple straightforward, unambiguous question. That much is clear. However that Cameron is opting to give the pro-EU side the positive 'Yes' suggests strongly that his negotiations are so much fudge. He has already decided which way he wants the answer to be given, without a single power repatriated," he said.
But Tom Mludzinski, the head of political polling at ComRes, said it was actually "not that important" whether a campaign had the "yes" or the "no" word on the ballot paper.
He told The Huffington Post: "In fact, the last two major referendums in the UK has seen 'no' to Scottish independence and 'no' to AV win. The more important issue is around framing of the choice and the campaign messaging.
"Perhaps crucially in a referendum is the issue of status quo. On these major issues, status quo and 'better the devil you know' tends to have the advantage. For that reason, even a question of 'leave' and 'remain' in the EU comes down to being status quo or change."
Hammond told BBC Radio 4's Today programme this morning there were "big issues which have to be resolved" and that Cameron had a "very clear set of requirements".
"The prime minister is very clear in dealing with European counterparts that if we are not able to deliver on these big areas of concern that the British people have, we will not win the referendum when it comes," he said.
"We expect our European Union partners to engage with us in delivering a package that will enable the British people to decide that Britain's future is best delivered inside the European Union."
Cameron is meeting his Dutch counterpart Mark Rutte for a working lunch in The Hague before heading to Paris for talks with President Francois Hollande at the Elysee Palace.
A meeting will be held with Polish prime minister Ewa Kopacz in Warsaw tomorrow before talks in Berlin with chancellor Angela Merkel.
A visit to Copenhagen to meet Danish premier Helle Thorning-Schmidt was cancelled after she called a snap general election.